Police say they are looking for three vandals who scrawled anti-Semitic graffiti on a Bronx home belonging to a former New York City budget director.
A trio of men spray-painted the word "Jew" onto the front door of the Riverdale house on Fieldston and 246th Street Saturday morning, according to police.
Homeowner Philip Michael, a former budget director who's worked in city government under four mayors, told News 4 he was upset to find the graffiti on his front door.
The incident is being investigated as a hate crime. No arrests have been made.
Riverdale is home to a large Jewish community, including several Jewish schools and synagogues.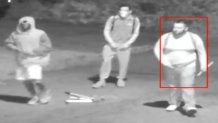 "It is horrifying that one's place of residence would be targeted, attacked and singled out in such a way," said Evan R. Bernstein, New York regional director of the Anti-Defamation League.
"We appreciate NYPD's swift and robust response, particularly its Hate Crimes Task Force, and hope the investigation leads to an arrest soon," he said.
ADL says its annual audit of anti-Semitic incidents found a 50-percent increase in instances of anti-Jewish vandalism across New York state from 2015 to 2016.
Police late Monday released new surveillance footage (above) of the three men in the hopes of getting them off the streets.
Top Tri-State News Photos