What to Know
It's official: New York City will become home to part of Amazon's new East Coast headquarters
Amazon has announced it will split its new headquarters, known as HQ2, between Long Island City in Queens and Crystal City, Virginia
Amazon announced last year it was looking to open a second headquarters somewhere in North America, bringing as many as 50,000 new jobs
It's official: Amazon is expanding its new headquarters to New York City.
The e-commerce behemoth has announced it will be splitting its new East Coast bases between Long Island City, Queens, and Crystal City in northern Virginia. The move had been expected since The Wall Street Journal and The New York Times reported last week the company would be splitting the new headquarters, known as HQ2, between the two cities.
Amazon said it will invest $5 billion and create more than 50,000 jobs across the two new headquarters locations, with more than 25,000 employees each (and the potential to expand to 40,000) in Queens and Arlington by 2033. New York state is offering incentives of up to $1.7 billion if Amazon hits the 40,000 mark, which it would have until 2034 to achieve.

Hiring at both headquarters will begin in 2019. Starting in 2020, Amazon will have job fairs and resume workshops for three years to promote employment to NYCHA residents.
Hunter's Point South's New Park Expansion Offers Scenic Waterfront Views in Long Island City
"We are excited to build new headquarters in New York City and Northern Virginia," Jeff Bezos, founder and CEO of Amazon, said in a statement. "These two locations will allow us to attract world-class talent that will help us to continue inventing for customers for years to come. The team did a great job selecting these sites, and we look forward to becoming an even bigger part of these communities."

The Long Island City location will include 4 million square feet of energy-efficient office space with the opportunity to expand to 8 million feet. There is an estimated incremental tax revenue of more than $10 billion over the next two decades as a result of the investment and job creation, Amazon says.

The company will also set space aside for a "tech startup incubator" and donate space for a new public elementary school or middle school in the area. Also on the agenda -- new public green spaces.

See the full "memorandum of understanding" here or scroll down to see the document in full. Some established offices and structures, including Department of Transportation offices and Department of Education parking, will have to be moved to make room for HQ2. See the map below for details.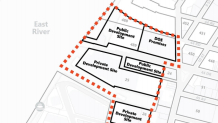 Both Gov. Cuomo and Mayor de Blasio lauded the selection in separate statements, with the governor saying, "We can proudly say that we have attracted one of the largest, most competitive economic development investments in U.S. history."

"New Yorkers will get tens of thousands of new, good-paying jobs, and Amazon will get the best talent anywhere in the world," said de Blasio. "We're going to use this opportunity to open up good careers in tech to thousands of people looking for their foothold in the new economy, including those in City colleges and public housing."
Amazon also announced it picked Nashville, Tennessee, for a new Center of Excellence for its operations business, which is responsible for customer fulfillment, transportation, supply chain and other components. That center will create more than 5,000 jobs, Amazon said.

The company announced last year it was looking to open a second headquarters somewhere in North America, bringing with it as many as 50,000 new jobs. Several state and local governments threw their hats in the ring, offering Amazon millions in tax incentives if they opened their new headquarters in their cities.
[NY ONLY] The Full 2019 List of New York City's 76 Michelin-Starred Restaurants
Landing Amazon is expected to cement Long Island City's transformation from a faded manufacturing zone to a vibrant, of-the-moment enclave of waterfront skyscrapers, modernized warehouses and artsy-tech ambience across the East River from midtown Manhattan.
"I joke that we're experiencing explosive growth 30 years in the making," says Elizabeth Lusskin, president of the Long Island City Partnership, a neighborhood development group.
Resident Sergio Palumbo enthused, "The fact that more people will be coming here, more businesses -- it'll be a great influx for years to come, too."
But Long Island City also has been straining to handle its growth.
"When you get on the subway in the morning, it's already a sardine can," said resident Ken Nanus.
"Bringing 10- or 20,000 people into this neighborhood, we wonder what it'll do to an area that doesn't have enough schools or local merchants," said Nanus, worrying that the influx will also drive rents up and "eventually drive us out of the neighborhood."
Added Benjamin Moon, "It could be more expensive, and for small businesses, it could be a big problem long-term."
Days before the potential Amazon news emerged, the city announced a $180 million plan to address Long Island City's packed schools, street design and a sewage system that groans in heavy rain. But those projects will just catch up with current needs, says area City Councilman Jimmy van Bramer.
"I know that there are a lot of people cheerleading for this, but HQ2 has to work for Queens and the people of Queens. It can't just be good for Amazon," says van Bramer, a Democrat.
He added in a joint statement with Sen. Michael Gianaris on Sunday that "offering massive corporate welfare from scarce public resources to one of the wealthiest corporations in the world at a time of great need in our state is just wrong."
The Times reported that New York had "offered potentially hundreds of millions of dollars in subsidies" to Amazon.
"If public reports about this deal prove true, we cannot support a giveaway of this magnitude, a process that circumvents community review through the use of a GPP [General Project Plan] or the inevitable stress on the infrastructure of a community already stretched to its limits," Gianaris and Van Bramer said in their statement.
"We were not elected to serve as Amazon drones," they added. "The burden should not be on the 99 percent to prove we are worthy of the 1 percent's presence in our communities, but rather on Amazon to prove it could be a responsible corporate neighbor."
Gianris, Van Bramer and local community groups planned to protest the subsidies to Amazon at its proposed new site on 44th Drive and Vernon Boulevard Wednesday morning.
Top Tri-State News Photos
A NEIGHBORHOOD REBORN
Once a bustling factory and freight-moving area, Long Island City saw many of its plants and warehouses closed as manufacturing shriveled in New York City.
The neighborhood's rebirth began in the 1980s, when officials broached redeveloping a swath of the waterfront, while artists were drawn by warehouse spaces, affordable rents and a building that is now the MoMA PS1 museum. Silvercup Studios - where such TV shows as "Sex and the City," ''30 Rock" and "The Sopranos" have been filmed - opened in 1983.
Long Island City gained a new commercial stature, and the start of a high-rise skyline, when the banking giant now called Citi opened an office tower there in 1989. But the area's growth lately has been driven by residential building.
Some 9,150 new apartments and homes have been built since 2010, more than in any other New York City neighborhood, according to the city Planning Department. Thousands more units are in the works.
New York has striven for nearly a decade to position itself as a tech hotspot.
Venture capitalists poured $5.8 billion into New York-area startups last quarter, more than any other region except the San Francisco area, according to the consulting and accounting firm PwC . Established tech giants, including Google and Facebook, have been expanding their New York footprints.
Waiting for a subway, Long Island City community board chairwoman Denise Keehan-Smith could envision Amazon benefiting the neighborhood.
"But I think we have to be careful about it," she said.
[NATL] Top News Photos: Pope Visits Japan, and More
Copyright AP - Associated Press