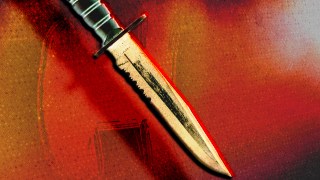 A New Jersey man was convicted on Thursday of killing his ex-girlfriend by stabbing her 11 times and leaving the blade of the kitchen knife in her neck after she told him their relationship was over.
Raheem Jones, 37, was found guilty of murder and weapons offenses in the December 2012 slaying of Latasha Smith, 39. The jury convicted him after being briefly evacuated because of a bomb threat at the courthouse, The Record newspaper reported.
Two of Smith's sisters pumped their fists and wiped tears from their eyes after the verdict was read in court.
"You see what kind of animal that man is?" sister Siheima Smith, 37, asked. "He's right where he belongs."
Prosecutors said Jones had a history of domestic violence and he was released from a halfway house the day before the killing after serving time in prison for breaking Latasha Smith's nose.
The two were in an on-again, off-again relationship but upon Jones' release from the halfway house, she "decided to move on with her life," said Michael DeMarco, deputy first assistant prosecutor.
When he went to her house, they argued and Latasha Smith told Jones she was breaking up with him. But the argument eventually died down, and Jones stayed over that night, sleeping in Smith's room, prosecutors said. The following day, he stabbed Smith repeatedly and fled.
Jones' defense attorney, Laurie D'Addio, had urged jurors during her closing remarks to find her client not guilty because prosecutors have not presented any evidence placing Jones at the scene.
Jones faces up to life in prison when he is sentenced on Nov. 20.