What to Know
A mother says her 8-year-old son was yanked by the neck and dragged to the school's office by another parent

Sanavya Hodges says the alleged incident happened the day after her son Jalen and the other parent's son had a dispute

"The safety of students and staff is our top priority," a spokesperson for the Department of Education said
A woman whose son attends a school in the Bronx says he was not only bullied by another parent, but also attacked on campus.
Sanavya Hodges says her son was grabbed by the neck and dragged by a parent who walked past school security at PS-146 in Morrisania, made her way to the cafeteria and grabbed 8-year-old Jalen Swinton by the neck and dragged him.
11 Tri-State Cities Rank Among 100 Most Dangerous in Nation
"All she saw was the lady holding him by his neck and just dragging him to the office," Hodges said in front of the school that has a sign in the front that reads "No Bully Zone."
Hodges added that the assistant principal told her the parent also cursed at her son over a dispute that allegedly happened between Jalen and the other parent's son the day before. However, Hodges said nobody stepped in to help and that the woman just simply left the building.
The Department of Education said the school followed protocol in addressing the incident.
"The safety of students and staff is our top priority," a spokesperson for the DOE said. "The family is being provided with ongoing support, and we are working with the NYPD as they conduct an investigation."
The district said the school immediately reported the alleged attack to the NYPD, which confirms police and EMS responded to the school.
The woman has yet to be identified and no arrests or charges have been made. Hodges said she doesn't know who the woman is either and doesn't feel comfortable sending Jalen back to the school.
"They ain't handled nothing," Hodges said. "They don't care about us."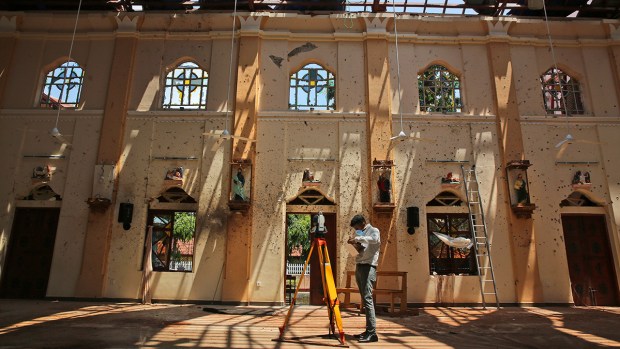 Top News: Sri Lanka Attacks Leader Died in Blast, Police Say