Police took another teenage girl into custody Saturday in connection with the savage gang beating of a 15-year-old girl inside a Brooklyn McDonald's -- the fifth suspect apprehended in the attack that was video-recorded by onlookers and went viral on the Internet.
A sixth suspect is still at large.
Two of the suspects, Telani Marshall, 17, and a 15-year-old girl whose name is not being released because she is being charged as a minor, appeared in court Saturday.
They were arrested in Brooklyn Friday on robbery and gang assault charges after they turned themselves in to police, according to the NYPD. Marshall was charged as an adult.
Girl Charged in Brutal McDonald's Brawl Has History of Violence, Accused of Attacks on Pregnant Woman, Own Grandmother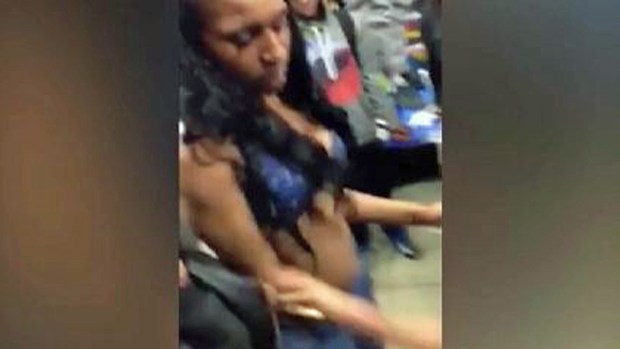 Marshall said nothing in court, but her attorney, Audrey Thomas, argued that her client isn't in the video and had nothing to do with the gang attack.
"My client has been crying ever since the detectives called her mom," Thomas said after the hearing. "I'm confident that this case is going to be dismissed eventually as the facts unfold."
Marshall was released on $75,000 bail.
An attorney for the 15-year-old suspect said her client had previously been attacked by the victim of the gang beating and feared being attacked again.Bail was set at $50,000 for her client.
Mercedes Wilkinson, a 16-year-old Brooklyn girl, turned herself in on Saturday morning and was charged as an adult with gang assault and robbery.
One teen was taken into custody in Atlanta at the airport Friday as she sat on a plane that was set to head to Jamaica, a law enforcement official told NBC 4 New York. The NYPD alerted local authorities there, and they were able to take the girl off the plane before it departed.
Police Investigating After Teen Girls Brawl at Brooklyn McDonald's
She's expected to be charged once she's brought back to New York, police said.
Sixteen-year-old Aniah Ferguson, the alleged ringleader in the Monday brawl, was the first suspect to be arrested in the assault earlier in the week. She was arraigned Friday on charges of robbery and gang assault, and is being charged as an adult.
Ferguson has been arrested half a dozen times since September on various offenses, including for allegedly attacking a pregnant woman in an emergency room and her own grandmother, records show.
In court Thursday, Ferguson's public defender said the teen has been attending counseling once a week for the past year in an effort to "better her life." Prosecutors allege she was the ringleader in the McDonald's beatdown and stole the victim's bag, makeup and phone after the attack.
They also allege she is part of the Young Savages gang, a violent group known to be involved in patterns of violence and credit card scams.
Ferguson, who lives with her mother and grandmother she has been accused of attacking, was ordered held on $500,000 bail. She also has a 1-year-old daughter. None of the three attended her arraignment Friday.
Video of the McDonald's attack, which was posted on Facebook, shows four girls, all believed to be Erasmus Hall High School students, repeatedly punching and kicking another teen wearing a blue hooded sweatshirt while throngs of bystanders shout in the background.
The larger group continues to attack the teen in the blue sweatshirt, even pulling out her hair extensions, until the girl huddles underneath a table with her hands over her head. At one point, one of the girls in the group stomps on the victim's head. The victim suffered a concussion, bruises and contusions, according to a criminal complaint.
At several points during the fight, bystanders can be heard saying, "She's dead," and, "You murdered her."
The video ends with several students picking the girl up off the ground and putting her on a bench.
Police initially said the investigation had been hampered by a lack of cooperating witnesses, including the girl in the blue sweatshirt and her mother, but NBC 4 New York learned Friday that the victim had come forward to file a police report.
The Department of Education, meanwhile, called the actions seen in the video "abhorrent."