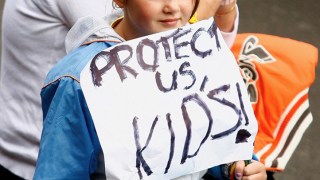 Police on Long Island say Parents for Megan's Law will begin monitoring the online activities of the county's registered sex offenders early next year.
Newsday says the monitoring in Nassau County will include tracking posts on Facebook and Twitter and forwarding leads to police.
Police say the nonprofit also will create a smartphone app to allow the public to report sex offender violations.
Nassau has 550 registered sex offenders.
The Stony Brook organization maintains the registry, sends email alerts when offenders move and manages a help line and conducts community outreach.
The Nassau police department says the group is expected to begin the program in January. It's still negotiating a contract price.
The nonprofit also has a three-year contract to run a similar program in neighboring Suffolk County.