What to Know
One person died and at least five others were injured after a fire tore through a building in Paterson on Saturday, officials said
The fire broke out in a two-story building at 187 N. 1st St., near East Main Street, police said
Witnesses saw the victim running into the home to try and save others
A father died and several others were injured after a fire tore through a house in Paterson, New Jersey, officials said.
The fire broke out in a two-story building at 187 N. 1st St., near East Main Street, police said.
Witnesses in the neighborhood said dark smoke and flames engulfed the home while several people were still trapped inside.
Family members said 30-year-old Andres Uriebs was at a nearby laundromat when the fire started but ran into the house to save others.
"He took his shirt off and ran inside to help the baby... 'cause they said there was a baby in there," said neighbor Vanessa Negron.
Firefighters said at least two people jumped from windows of the two-story home to escape. Family members said Uriebs was one of the two who jumped.
Family members at the scene were distraught and in shock over losing a father and son.
"He was brave, 'cause I don't think I would have done that... I feel so bad for the mom, losing a kid," Negron said.
Officials said five other people were injured. Their ages and conditions were not immediately known.
The cause of the fire is under investigation.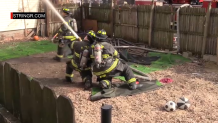 Copyright NBC New York