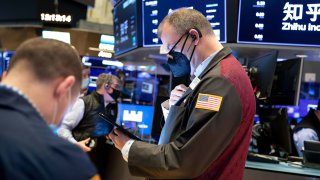 U.S. Treasury yields moved lower on Friday after Federal Reserve Chairman Jerome Powell's said in prepared remarks that the central bank would begin cutting its asset purchases later this year but rate hikes were still far off.
The yield on the benchmark 10-year Treasury note lost 3.9 basis points, falling to 1.305% at 4:05 p.m. ET. The yield on the 30-year Treasury bond fell 3.2 basis points to 1.909%. Yields move inversely to prices and 1 basis point equals 0.01%.
Even with the mild decline on Friday, Treasury yields are still higher for the week and well above their recent lows.
Powell said in his remarks that the Fed has seen "substantial further progress" on its goal for inflation, referring to the benchmark the central bank has used to signal when it will start to tighten policy. However, Powell said that there "has also been clear progress toward maximum employment," stopping short of saying that goal has been met.
Powell also cautioned that the start of the taper should be seen as a signal of when that the Fed will raise interest rates.
"The timing and pace of the coming reduction in asset purchases will not be intended to carry a direct signal regarding the timing of interest rate liftoff, for which we have articulated a different and substantially more stringent test," he said.
Dallas Fed President Robert Kaplan told CNBC on Thursday that he would like to see central bank announce a winding down of bond purchases in September.
Kaplan said that he was concerned about inflation and "excess risk-taking" that has led to "distortions" in financial markets, particularly in bonds.
The Personal Consumption Expenditures index, which shows changes in the prices of goods and services purchased by consumers and is the Fed's favorite inflation indicator, rose 4.2% in July from the same time last year and 0.4% from the previous month, the Commerce Department reported Friday.
The University of Michigan's final consumer sentiment data for August came in at 70.3, reinforcing a dramatic decline seen in the preliminary reading two weeks earlier. However, Surveys of Consumers chief economist Richard Curtin cautioned that the sharp decline could be temporary, particularly due to health concerns caused by the delta variant of Covid-19, and doesn't necessarily signal a coming economic slowdown.
— CNBC's Jeff Cox and Jesse Pound contributed to this market report.
Copyright CNBC