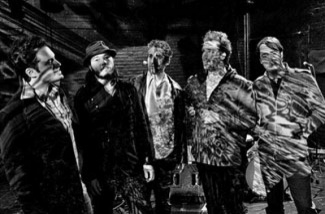 It's a night of gauzy, dreamy folk and doo-wop at Bowery Ballroom tonight.
Wye Oak headlines the bill, near the end of its tour for the band's great, recently released Civilian. The Baltimore-based two-piece have an unmistakable dynamic of loud-soft-loud folk-rock, moving from delicate ballad to broken-bombast backbeat within the same song. It's a powerful mix that works well and on record, and even better live.
Callers, straight out of Brooklyn, will play in support. With syrupy bass lines, a little Motown girl-group spotlighting, and enough groove to propel the whole thing along. The trio is actually on a more extensive tour with Wye Oak, wrapping up their leg of the stint a couple days from now in Maryland.
Rounding out the bill is New York's Caveman. Comprised of members of great New York rock bands now-passed (Elefant, The End of the World, The Subjects) Caveman stands to gain ground as one hell of New York presence – put together, focused, driving, and most of all just enjoyable.
Well, as it turns out we weren't the only ones to pick up on this great show – it's just sold out; but, as always, tickets can still be found on Craigslist and elsewhere, though for quite the markup. This one may actually be worth the scalper's fee.