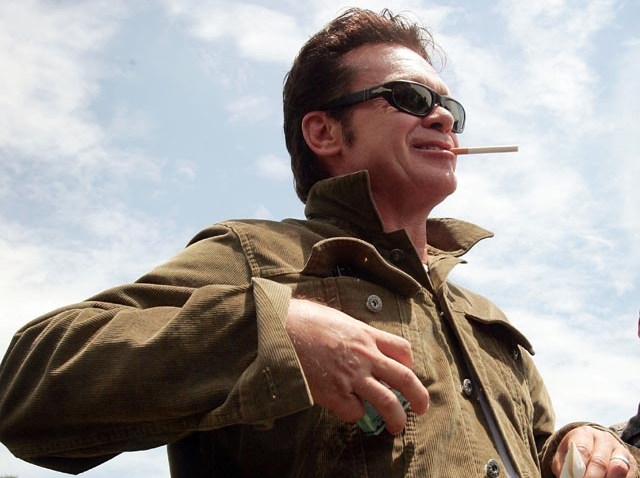 When he wasn't dodging the paparazzi whilst courting one Meg Ryan, John Mellencamp (né Cougar) spent 2010 releasing the album No Better Than This. He brings a little bit of cowboy-boot dust to polished Radio City Music Hall Friday, Saturday, 8PM.
Paul Van Dyk has sold more than three million albums worldwide—that's a feat for anyone, much less a quiet, meticulous purveyor of electronica. He returns to NYC with a (sold out, but try Craigslist) Terminal 5 show on Saturday, 9PM.
Frenchman Yann Tiersen is best known for writing movie soundtracks (he's the man behind Amélie's enchanting accordion interludes), so no surprise that even his non-soundtrack work swells with seemingly diegetic drama. He'll play material from his latest release, Dust Lane, at Highline Ballroom. Collaborator Shannon Wright opens. Friday, Saturday 9PM.
Scrappy Philly rock mainstays Dr. Dog land at Terminal 5 on Friday, as they continue to tour on the strength of their 2010 release, the way-more-polished-than-their-early-stuff Shame, Shame. Notable is the Head and the Heart opening, a Seattle band that does bright flashes of country-edged pop. (Grab a couple of free mp3s on their website to see what we mean.) 8PM.
Some bands shun showmanship, and others take a stage appearance as an opportunity to dazzle your every sense and blow your mind clear out your head. Metal outfit GWAR, with their sci-fi/horror costumes and fun interludes like simulated decapitation, are like a videogame come to life. Music Hall of Williamsburg, Sunday, 7:30PM.
Everything you need to know about this show is in the name: Salt-n-Pepa's Legends of Hip-Hop Tour. The ladies are packing the bill at the New Jersey Performing Arts Center's Prudential Hall with an eighties-tastic roster: Doug E. Fresh, Kool Moe Dee, Big Daddy Kane… Dig out your oversized hoop earrings for this one. Sunday, 6PM (and it lasts three hours).

Overseas, Elysian Fields enjoy the cult status the U.S. reserves for your David Byrnes and your Devendra Banharts. Go hear their lush orchestration layered over with Jennifer Charles' smoky vocals and clue in to why. Twisted-country purveyors Lucinda Black Bear open. 6:30PM.