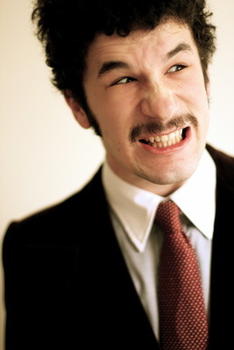 At the end of 2011, Nonstop Sound had the pleasure of naming Bed-Stuy's Harvey Eyeballs as our favorite debut artist of that year. If only for his pastiche of oddity, Harvey has a way of earnestly tickling our funny bones.
Case in point: this live video that emerged today from Harvey's YouTube page. It's from his very first live outing, at Local 269 on Manhattan's Lower East Side. There's a pop-culture upchuck that gets all over your shoes here, as Harvey -- aka Fox Schwach -- takes a reprieve from his funk-burner "Going to the River" to make sure "we won that sports game."
This is just moments before breaking into a towering version of Berlin's "Take My Breath Away." But only the chorus of that 1980s classic gets taken down as Harvey decides "that's not the right song" and launching back into "...River." Strangely ideal.
No word yet about Harvey's next live jam.