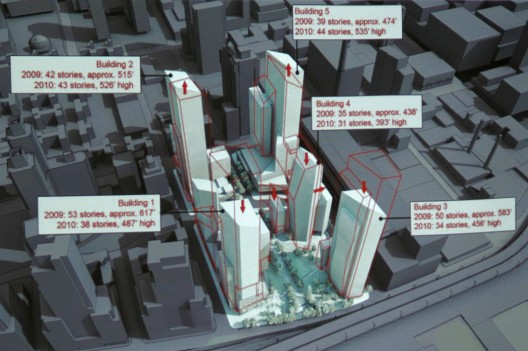 Upper West Side
community board yesterday to unveil revised plans for
Riverside Center
, the
five-tower megaproject
that the developer hopes to build on a parking lot that stretches from 59th Street to 61st Street and West End Avenue to the West Side Highway.
How controversial is Riverside Center? Despite having French starchitect Christian de Portzamparc on board to design the thing, worried locals started drafting their own designs for what Extell should do with the land. Er, no thanks, but the developer did decide to downsize!
The Westside Independent was on the scene for the reveal, taking notes and snapping away. The three towers closest to the river have all been reduced in size, two of them rather dramatically. The pair of towers closer to West End Avenue have gotten bigger, but not by much (full breakdown above). There's also more space between the towers, and the plan to include big-box retail has been dropped entirely after people had that hissy fit about Costco.
In addition to over 2,500 apartments, Riverside Center — the biggest piece of Extell's "Riverside South" puzzle of luxury residential buildings sprouting up in the area (Rushmore, Avery, Aldyn, etc.) — would also include oodles of retail and three acres of open space, a hotel, movie theater, auto dealership, K-8 school and an extension of West 60th Street that gives way to a quarter-inch-deep "water scrim" that, Westside Independent notes, people will be allowed to walk into.
The plan is expected to enter the public land-use review process next month, and woo boy, there are going to be some fights over this one. Already complaints about affordable housing and environmental impact (including exhaust from the auto dealership) are surfacing, but the most damning critiques might be those from people who say that Riverside Center reeks of Battery Park City. Extell showed some revised renderings that can be seen in the gallery above. Feeling any BPC vibes?
Copyright CURBD