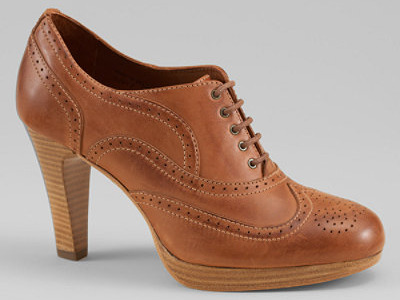 If you thought LL Bean was all outdoor gear and monogrammed canvas tote bags, think again. These new glammed-up brogue heels, part of the label's recently-launched "Signature" collection are utterly on-trend, and dare we say, a little sexy?
Available in classic toast-brown leather ($129) and black patent leather ($139), elevated by a stacked wooden heel and a slight platform, the shoes are a decidedly affordable offering of this popular fall style—and no less fetching, one might add.
The Signature Collection, LL Bean's more contemporary, fashion-forward division, launched less than a year ago under the creative supervision of Alex Carlton, formerly of the menswear line, Rogues Gallery. While some of the collection still leans a tad on the safe side, every once in a while you'll find a great gem—or, in this case, a pair.
You probably didn't think they had it in them, did you?