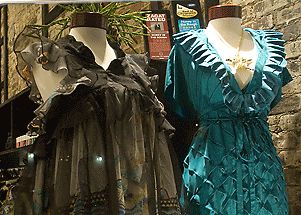 LYELL
Lyell is holding a one-day sample sale for intrepid shoppers to spend their Saturday saving. Current and past season clothing of all kinds are being marked down like crazy. Saturday, 11am-7pm at Tricia's Place - 171 Elizabeth Street, next to Lyell boutique.
HAYDEN-HARNETT
The badge of Brooklyn cool comes in the form of Hayden-Harnett's on-trend rockstar bags and accessories. Sumptuous leather and gorgeous detailing add to the entire package. Starting today, the H-H girls are opening up the studio and warehouse for spring cleaning of samples, one-offs and random vintage found items for sale up to 80% off. The sale runs through 2/7. Greenpoint: 211 Franklin St., at Freeman St. (718-349-2247); T-F (noon-8), S-Su (11-8). Nolita: 253 Elizabeth St. (212-334-2247); daily (noon-8).
HONEY IN THE ROUGH
The fall/winter clearance sale at this Rivington shop winds down this weekend, with markdowns up to 50 percent off through Sunday. Check out the entire collection of pitch-perfect party dresses from Antipodium, Madison Marcus, Tsumori Chisato, and more. Head to 161 Rivington St.
PHI
Everything must go as PHI shuts its doors forever (tear). The last of the goods will go for up to 70% off pre-spring and fall and 90% off past season. Samples added to the mix are priced between $20-$200. Go to PHI , 71 Greene Street, (between Spring and Broome streets); 212-966-0076. Sale extended through Sunday. Friday and Saturday, from 11 to 6:30 p.m.; and Sunday, from noon to 6 p.m.
BIRD
If you're like us and have been coveting most of this little gembox's merch for most of the season, you're in luck - discounts are being upped to 75% through February. Isabel Marant and Vena Cava have got some rad pieces left for accessibly low prices. 220 Smith Street, Cobble Hill; 718-797-3774; 316 Fifth Avenue, Park Slope; 718-768-4940; and 203 Grand Street; Williamsburg; 718-388-1655; and online at shopbird.com.
SOME ODD RUBIES
Some Odd Rubies' antique ambience on all their clothes makes for a perfectly vintage-romantic Valentine's Day. They're shilling lots of goods for 50-70% off, now through February 14. 151 Ludlow Street; 212-353-1736.
THISTLE & CLOVER
Ring in end of season with the shop's sweet deals up to half off on fall/winter merch. The usual suspects, including Cloak & Dagger, Lewis, Wren and Dace, are all within easy reach in the Fort Green store. 221 DeKalb Avenue; 718-855-5577.
PAS DE DEUX, ODIN NEW YORK
Both girls (at Pas de Deux) and boys (at Odin) get their pick of the designer litter for deeply discounted prices. Women, snag Karen Walker, Alexander Wang and Rag & Bone just in time for fashion week, while dudes have access to Shipley & Halmos, Robert Geller, and Richard Chai on sale. Friday & Saturday 11am-8pm, Sunday noon-7pm. 199 Lafayette St. Soho (212-966-0026).
KISAN
The Kisan Concept shop is extending deep discounts on its posh merch, with Sonia by Sonia Rykiel, Farmer's Market, Ports 1961, Tsumori Chisato and others going for up to 70% off through the weekend. Today & Saturday (11am–7pm), Sunday (noon–6pm); 125 Greene St., Soho.
PLEATS PLEASE ISSEY MIYAKE SALE
Issey Miyake is practically giving things away, with tremendous markdowns offered through this weekend. Fri–Sat (11am–7pm), Sun (noon–6pm); 128 Wooster St., Soho.