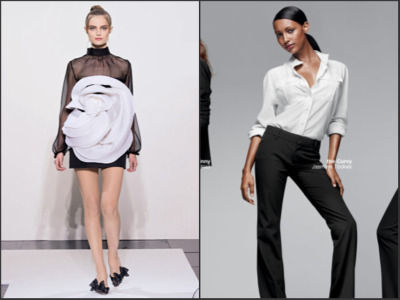 Much as as Lanvin for H&M created a frenzy here in the States, we'd wager Valentino's capsule collection for the Gap, will create a similar stir when it arrives in Europe on Saturday.
The Telegraph got a first look at the collection, comprised of seven pieces in a rugged, khaki-and-olive palette -- embellished with Valentino's signature ruffles and bows.
We debated what Valentino himself would have thought of the collaboration, which was engineered by the house's new creative directors, Maria Grazia Chiuri and Pier Paolo Piccioli, nearly three years after the famous founder retired. That a pioneer of haute couture and glamour has come to dabble with a mass-market chain might come as a shock to some fans, but it's more an indication of the reigning popularity of high-low collaborations overall than anything else.
Valentino's collection for the Gap will be available in Paris and London, as well as in Milan, at Italy's very first Gap outpost.