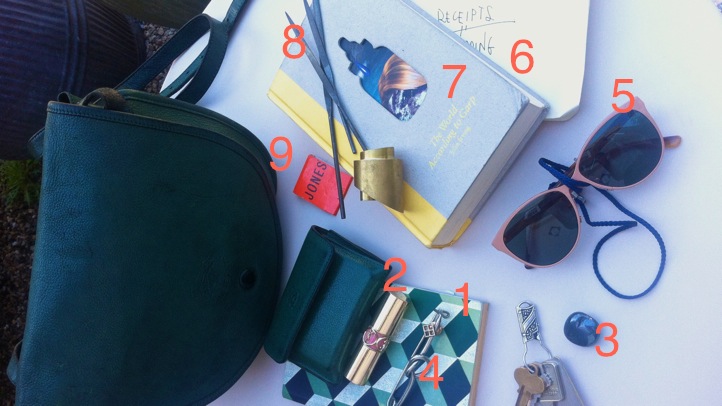 Kate Jones' sleek, geometric jewelry collections for Ursa Major are undeniably cool and always effortlessly wearable. Unsurprisingly, we found her handbag stocked with a similar mix of personal trinkets and vintage finds tempered with more practical work gear and accessories.

1. Journal - "For making lists and sketching, and everything else."
2. Beauty Essentials - "Yves Saint Laurent Rouge Volupté lipstick in 'Nude Beige.' I wear it all year long."
3. Hematite Stone - "Passed on to me by my florist friend, Zinna, who had it passed down to him. I keep it next to me everyday for a year, that's the deal, then find someone else deserving of the good fortune it's supposed to bring. So far, so good—or great!"
4. Trinkets - "Some miscellaneous jewelry I've collected from flea markets recently, including two pins."
5. Celine Sunnies - "Complete with a leesh because I still retain practicalities from my sailing days."
6. Envelope - "For receipts for my business."
7. "The World According to Garp" - "One of my all time favorite books. Re-reading."
8. Tools of the Trade - "Jeweler's files for some last-minute work."
9. Local Souvenirs - "Matches from my neighborhood, Great Jones Cafe, because my name is Jones. What better matches to have? I don't smoke but everyone else does."
Related Stories:
Clare Vivier Carries LegoMen, DiorShow Mascara
Orly Genger and Jaclyn Meyer Stash Books, Cowboy Shirts