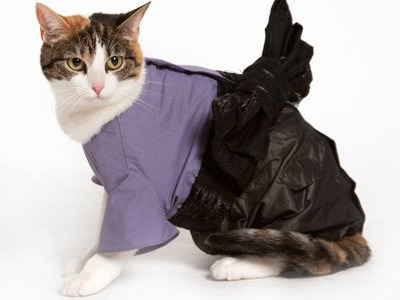 When United Bamboo put out a 2010 calendar featuring pieces from the brand's actual collections in cat-size proportions, a cult hit was born. Now, fans of the looks can snap up the actual fashion ... for $500, that is.
Yep, we, too, were quite surprised that the itty-bitty fashion would cost so much. And as much as we've obsessed over the calendar since we first spotted them in 2009 (full disclosure: there's one in the office), we find the price tag a bit baffling -- even by Opening Ceremony's standards, where a Rodarte cobweb-ish sweater can go for more than $2,000.
For those who can shoulder the price, Opening Ceremony currently offers two (ridiculously adorable) options: one topped off with a black velvet bow, and another tiered black one-piece with an origami-inspired pleated collar.