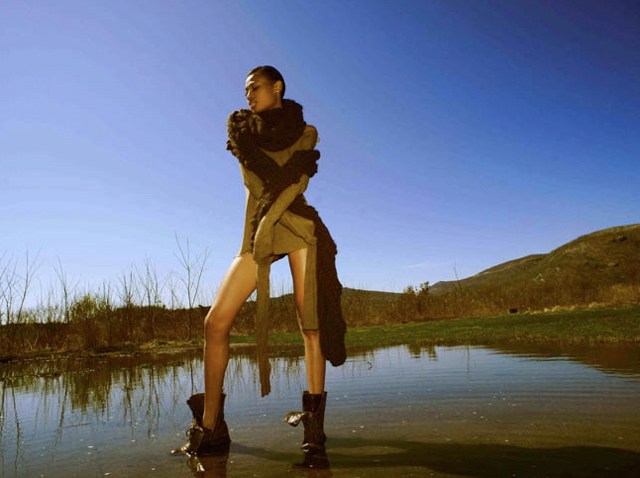 We featured Parsons grad Laura Siegel last summer as she made plans for her eponymous collection of sustainable knits, and wanted to follow up to see how things were progressing a year later.
Having won a number of prestigious scholarships prior to graduation -- including the Gap Inc Design Award -- Siegel was clearly a talent on the rise. No one could have anticipated, however, what a tremendous year 2011 would prove to be for the young designer.
"At first, I took a few months off and studied French and African Art at FIT," explains Siegel, who always knew travel and culture would play important roles in her company. "But then I got really lucky, and was sponsored to present my thesis collection [from Parsons] at Vancouver Fashion Week."
Siegel busily expanded the collection in the months leading up to the presentation, forcing her to flesh out her eco-chic vision into a complete range of plush knit separates and soft jersey dresses.
Following her presentation, Siegel "got lucky again," and received funding for a four-month research trip overseas, where she worked one-on-one with local artisans in India, Bali and Hong Kong.
"I had always wanted to work with local artisans, particularly in India," she explains. Among Siegel's new friends are woodblock printers, hand embroiderers and shabori dyers -- all of whom are producing materials for her forthcoming Spring 2012 collection.
"The challenge was really taking all of these distinct crafts and collaborations, and putting them together to make a cohesive collection," says Siegel, who is currently busy assembling samples here in New York before presenting the new collection in September.
If she's discovered anything, she says, it's that one never stops learning. "I didn't know immediately after graduation what I needed to learn," says Siegel. "But there's always something."