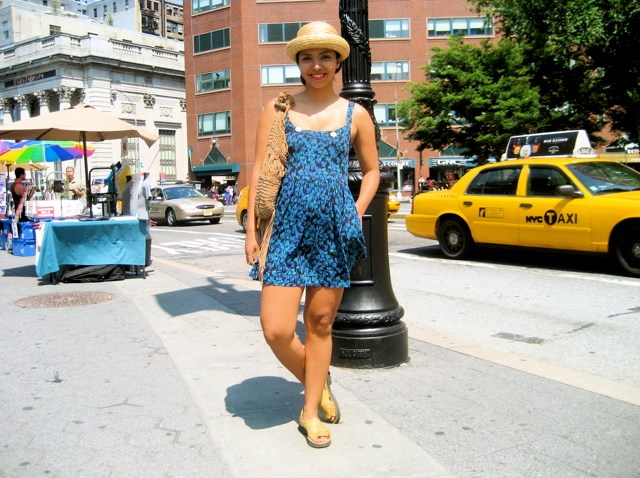 Midday on the steps of Union Square Park, one can safely expect a barrage of suit-wearing professionals scuttling to Whole Foods in pencil skirts, uniformed nurses on lunch breaks, and spiky-haired tweens experimenting with summer sub-cultures and plastic accessories.
Today was the same, with one notable exception: Miss Nikki Rojas flitted by the masses in a printed blue sundress and woven yellow sandals.
Once we successfully chased her down, Rojas explained she was en route to meet a friend for lunch, a week day luxury afforded by her flexible schedule as a stylist (no surprise, then, that she looked so darn cute).
Rojas, who scored her adorable sundress in an Arizona boutique, claims she's "a huge hippie fan," and tries to give vintage pieces new life in her modern ensembles. "I love thrift stores, but you gotta take your time," she explains, citing International Playground as an all-time favorite spot.
Rojas completed the look with a woven sunhat, crocheted handbag -- "a gift from a friend" -- and ruby red lips. Sunny, summery perfection.