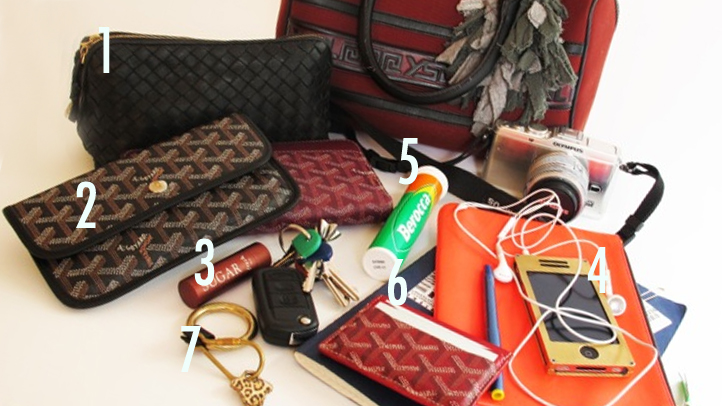 Geren Ford's funky, feminine womenswear line as well as her QVC capsule collection often take inspiration from her travels around the world. So it was hardly surprising that the designer's handbag was ready to hit the road, complete with a much-loved Moleskine journal (festooned with baggage claim ticket stickers), vitamins and classic Goyard envelopes.
1. Bottega Veneta Make-up Case - "Loaded with all the bits that a make-up artist friend told me I needed."
2.
Goyard Envelope - "I actually put cash into this and keep it out of the wallet. I think I have a tiny problem with Goyard and small leather goods in general ."
3. Sugar Lip Balm by Fresh - "No matter what day or what country I have to have this with me."
4. iPhone in ExoVault Case - "I adore this amazing heavy metal case."
5. Berocca - "Life-saving vitamins. Not unlike the Fresh [lip balm], these are always with me."
6. Moleskine - "I love that these are navy rather than black. I picked them up at a great little bookstore on Broadway Market in London earlier this year. I have taken to putting my baggage claim ticket stickers on the outside—think of it as a modern day steamer trunk. I use these to collect my inspiration and have logged them for years; now I'll know where I was as well.
7. Three Key Rings - "I travel so much that I keep my home, car and office keys on separate rings. It's just easier to separate them that way."
Related Stories:
Purse Purge: Karen Zambos Carries Scissors, Men's Sunnies
Purse Purge: Cynthia Vincent Totes Natural Sunscreen and Evening Clutches
Geren Ford: Fashion Week Is "Like a Marathon"
Geren Ford Designer Should Have Invented Facebook, Wants to Win "Amazng Race"