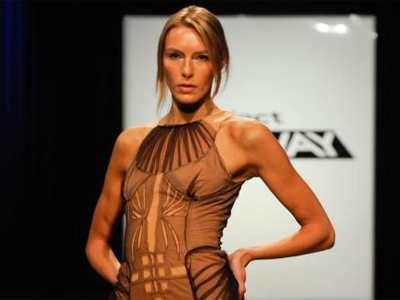 This week's Project Runway took to the streets of NYC for the challenge, tasking designers to create day and night looks inspired by one of four assigned New York neighborhoods.
The eight remaining hopefuls were paired up - to the dismay of oil and water Mila and Jay -- and dispatched to the Upper East Side, Harlem, the East Village and Chinatown. Some had fun, while others sparred and all seemed to take their charge a bit literally. Design elements took shape in the workroom based on the wrought iron detailing on Park Avenue apartments, grafitti in Alphabet City and Harlem's storied history and current day droves of denim. In Chinatown, Anthony had a moment with the ubiquitous Peking duck window displays and recounted it on the runway during judging -- while at the same time, he and partner Maya revealed a beautifully subtle translation of a Pagoda in a jacket silhouette.
Spoiler Alert!
Seth Aaron and Emilio, who'd visited Emilio's old neighborhood of Harlem, ended up winning the competition with a sassy (albeit with a split verdict) denim jumpsuit for day and an evening gown inspired by Billie Holiday but oozing contemporary body con. Amy went home after a dismal and confusing interpretation of Upper East Side style in the form of an oddly tailored, vintage-esque tunic.
Molly Sims -- looking quite bronze -- guest-judged along with Calvin Klein designer Francisco Costa, and, well, they judged. We're powering through the season as it narrows, with a bit of an emphasis on the effort it's taking to slog through.