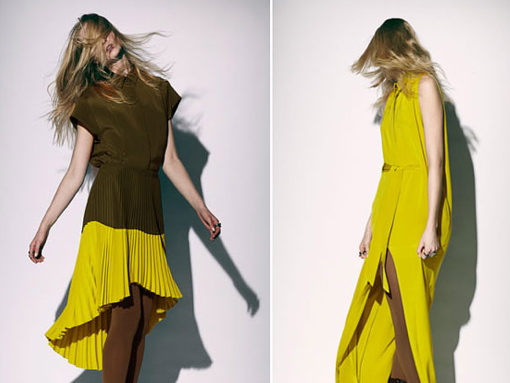 Now prepping her fourth season, designer Kaelen Farncombe is one of the city's most interesting rising talents, conjuring up cool, modern shapes with just a dash of impish charm.
Interestingly, the Ontario-native didn't always think she'd wind up a designer.
"I always knew that I wanted to be working in fashion, but I started to lean more toward design when I moved to New York," she explains. "Being here and meeting people who were doing their own thing gave me the confidence to try something that I had been afraid of."
Once Kaelen surmounted her fears, she proved herself an imminently capable designer, as adept at making the perfect pair of silky trousers as she was experimenting with new layering techniques.
"I'm big on experimentation," she says simply. "I love to do things my own way. I'm really best at putting fabric on a form and playing around until I get somewhere with it."
Among her more successful experiments for fall are a mid-length shirt dress in chocolate brown with a pleated chartreuse skirt fishtailing at the back (a piece that's been featured in several magazines), a colorful wool boucle coat with brass buttons, and a Jackson Pollock-like printed blouse with bright ink blot splashes.
Even though she's accomplished so much in a short amount of time, Kaelen still feels there's an education ahead of her. "I still have a ton to learn," she admits. "So much about fashion is learning as you go, so I never feel like I'm behind – I feel like I'm where I should be at this point in my career."