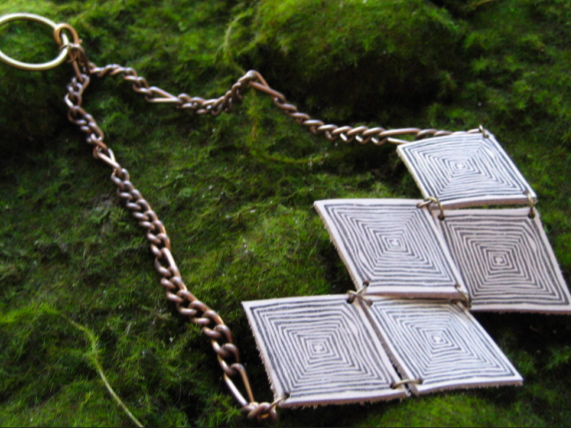 Phoebe Sung and Peter Buer of indie jewelry label Cold Picnic met during school days in Boston, where they unearthed a shared passion for design and craft.
Though both were pursuing degrees in arts-related fields at the time -- Buer completing his BFA while Sung finished hers in apparel design -- neither had any previous experience working with jewelry. Not the sort to be discouraged so easily, the duo launched their label last year, using entirely self-taught techniques and exhaustively researched imagery.
"Both of us take the research aspect very seriously," says Buer. "We always have a few things in the back of our minds -- most are from textile, history, or arts and crafts book ... many of which are out of print and which we scavenge from library sales and online."
Inspired by Native American symbology, the designers aim "to tell stories through [their] designs as they did." Their most collection, "Cave Art," furthered that mission by incorporating aspects from tribal African art and symbols from ancient stories.
After striking on their shared inspiration sources, the pair divide up the design and production process equally, Buer sketching the pieces and patterns while Sung focuses on carving molds and prints. "My hand can get a bit more wild," says Sung. "That way we get these precise drawings, implemented in a haphazard way. We work together, but take turns crafting everything depending on our strengths."
Funky small accessories like tooled leather belts round out Cold Picnic's current jewelry line, but quirky additions to the collection are already underway. A potential poncho-collaboration with Species by the Thousands may debut this summer, while custom aprons and tool belts for Vinegar Hill florist, Emily Thompson, are already underway.