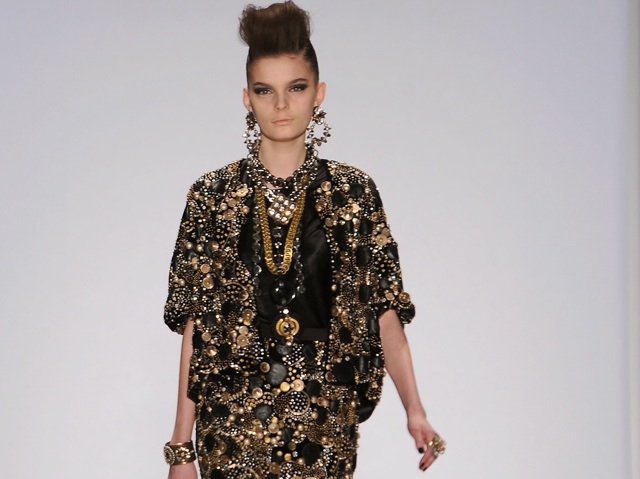 Naeem Khan's collection of beaded gowns and sequined dresses was relentlessly beautiful, with every inch of the lineup embellished with painstaking detail. The collection was so incredible, it brought a crowd of jaded fashion folk to their feet.
"Oh, he's more famous this year," said a reporter standing behind me, also waiting to get a quote from the designer. "Last season there was nobody here." After last night's presentation at the Promenade -- which brought the audience to its feet and some, including devotee Brooke Shields, to tears -- it's safe to say Naeem Khan is about to be much, much more famous.
"Fall is all about love, sex and rock n' roll," says Khan. "How do you make eveningwear sexy but in a fun, fresh way." The collection opened to a thumping Rolling Stones track with a gut-wrenchingly beautiful gold cocktail dress with asymmetrical sleeve. It was a hard opener to top -- but somehow, things got better. In fact, while sifting through photos of the evening, it became totally impossible for us to select a single knockout look: Was it the grey feathered gown that seemed to float down the runway? Or a sleeveless sheath dress covered entirely in mirrors?
In fashion, we use a lot of words like "meticulous," "detailed," "sumptuous" -- Khan's work is a poignant reminder as to what those words really mean. Hours of labor and love are immediately evident in the painstakingly beaded gowns, jackets, skirts and heavy jewelled accents.
At one point, a gentleman seated directly behind us yelped, "Yes. YES!" as a model emerged wearing a sleeveless feather vest and sweeping ivory gown covered in white beads and sequins. Sure, it's all a little excessive -- maybe even over-the-top at times -- but it takes a lot to make a crowd of style editors at the end of a long fashion week leap to its feet, and Kahn's unapologetically gorgeous collection did just that.