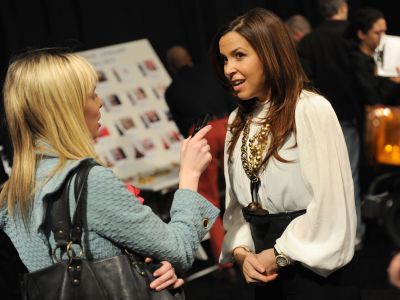 Monique Lhullier will expand her signature bridal collection to three new lines: ML Monique Lhullier cocktail-wear bridge collection, as well as the high-low duo of Monique Lhullier Bridesmaids and ML by Monique Lhullier Bridesmaids.
ML Monique Lhullier, which wholesales between $150-$400, includes cocktail dresses, separates, and evening gowns—making it possible for every woman at a wedding to get decked out in the designer's elegant wares, no longer just the bride. The bridal party, too, can get in on the action with a higher-end Monique Lhullier Bridesmaid collection wholesaling between $140-$175, which is expected to debut at full-service bridal salons in January 2011, while there's also the more affordably priced, Nordstrom-exclusive ML Monique Lhullier Bridesmaids line priced at $80-$100, scheduled to hit stores next month.
The three new additions come through a licensing deal with Group JS International, expanding the gown maven's 14-year-old label with what we predict to be one glamorous flourish.