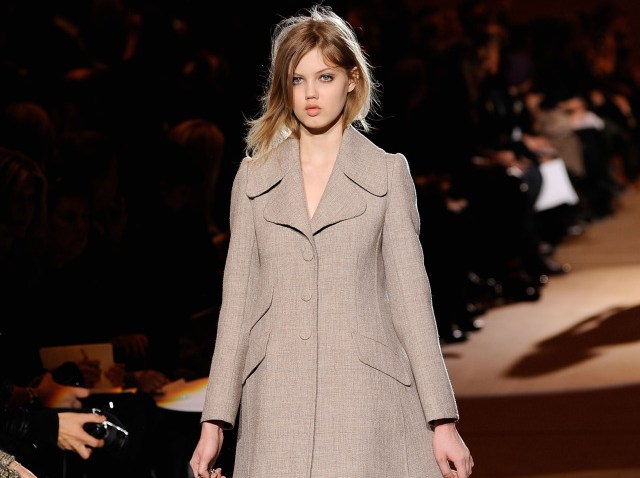 This season, Marc Jacobs proved himself to be ultimate fashion week showman -- by staging an anti-show. Surrounded by insiders with nary a celebrity in sight, he sent a near-flawless collection down the runway, all within walls of stapled cardboard.
Even Jacobs has been the first to admit that his shows have gotten a little too over-the-top in recent years. He even attempted to limit things for his Spring 2010 show, but Madonna still crashed. "She came backstage, and I was like, 'What do you do with her now?'" he told the Post. "Because it's not like she was invited ... She just came, and that was it."
This year, the show was on absolute lockdown. Hordes crowded the show at the Armory, and the standing room was packed, but there was neither Madonna nor Gaga in sight. Tavi and Bryanboy were probably the flashiest folks in attendance, and the show started promptly at 8PM (in a week when starting promptly has hardly been the norm -- indeed, it never is). Heck, even the after-party at the Standard was apparently employees-only.
To kick off the show, Jacobs and Robert Duffy, the president of Marc Jacobs and super-tweeter ripped off the brown paper enclosing a massive cube at one end of the runway, revealing dozens of models standing inside a box wearing Jacobs' Fall 2010 collection. They then slowly filed down a series of runways (no third and fourth rows here -- just more runway space!) and out of the room.
The collection itself was -- simply put -- impeccable. Jacobs has long set the tone for New York fashion week, and here he has truly switched up the tempo of a week that was, until this evening, reigned by trends like velvet, leather, exposed midriffs, flashy colored furs, and print-mixing. Jacobs' collection was a return to simple, elegant design -- perfectly tailored pantsuits, swing coats, longer hemlines, and an overall soft, gray-and-neutral palette. To be sure, Jacobs added his stamp to the old-fashioned-ness of it all with inventive fluroishes: fur collars worn in reverse down the back, sequin long cardigans paired with calf-length wool skirts, and a light-as-air boudoir-inspired dress with lace. The feeling was retro and modest -- from the '30s-inspired long glittering dresses to the lowered heel height -- all to the echoing strains of "Somewhere Over the Rainbow."
Well, Marc, you've once again made believers of all of us, and showed the burgeoning youth movement currently reigned by Alexander Wang what an experienced, steady hand can do.