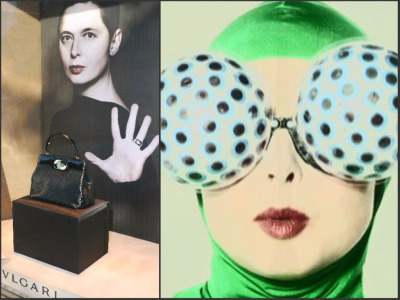 Icon Isabella Rosselini released four new bags for Bulgari July 15, featuring semi-precious metals, rich fabrics and the actress cum activist's signature Green Porno linings.
The Isabella Rosselini Handbag by Bulgari line features a structured shape in four textures and colors that make for a luxe, ladylike feel on the outside, however it's quite the contrast on the inside.
The bags' linings depict the creatures Rosselini portrays in her Sundance Channel online series, Green Porno, an undeniably quirky, but scientifically-accurate, project devoted to the mating habits of marine life. The webisodes star Rosselini herself, dressed in construction-paper costumes portraying a range of aquatic critters, from ducks to cuttlefish. Seriously.
The bags certainly look gorgeous, although we've yet to see if the interior graphics are that graphic. According to Rosselini's bio on the Sundance website, the Green Porno series was created to "really inform people how delicate the futures of these creatures are." Perhaps as delicate as, say, the future of the animals used to make the collection's leather and pony-hair handbags?