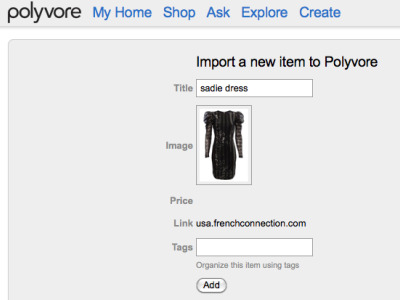 In what seems like a genius, why-didn't-they-think-of-that-sooner move, French Connection, Kiehl's and 1928.com are adding direct Polyvore links to their sites.
Now, shoppers may browse the e-shops and with one click, add an item they like to their Polyvore Favorites. The item thusly pops up more frequently on Polyvore, driving traffic back to the retailer's site, while Polyvore absorbs clicks from the so-far well-known brands.
It's been recently reported that Polyvore isn't just (unofficially) awesome -- it turns out, the user-driven, collage-building site provides a significant impact on the brands it features. Not only is it funneling a significant amount of retail traffic toward brands' websites, it's also giving brands critical information about what its biggest fans are interested in buying and wearing. A French Connection spokesperson even told WWD that the reason for the new partnership was mainly due to the importance of Polyvore on its own company's activity. The new feature went is already live on French Connection's website, as well as 1928.com, while Kiehl's is said to debut the feature soon.