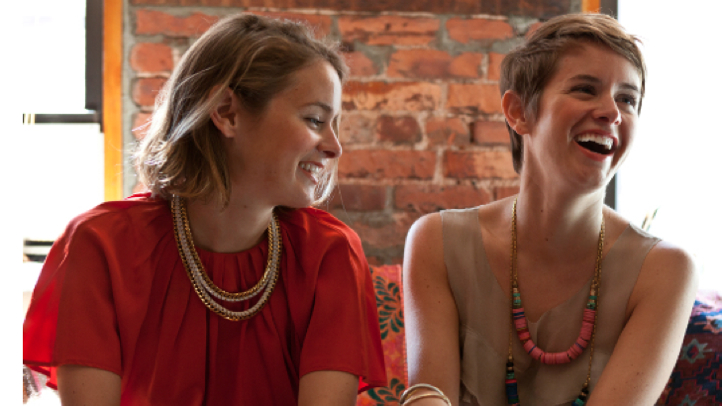 Every fashion week, Lizzie and Kathryn Fortunato—the sisters behind the Lizzie Fortunato collection of glitzy, vintage-inspired baubles—have their hands full between market week samples and custom orders, having designed runway pieces in the past for the likes of VPL and Suno.
But the girls make sure they have time for a little fun, too, between breakfasts at Soho House in New York to celebratory dinners at Clinton Street Bakery. Here, the five Fashion Week experiences the ladies are looking forward to.

1. The SUNO SS13 Runway Show — Ever since collaborating with Max and Erin we've loved watching their growth and the awesome things they do with prints. Can't wait to see what's in store for Spring 2013.
2. Soho House Breakfasts — We do our market week at the Soho House with LA-based shoe label Jerome Rousseau, and Kathryn loves indulging in their lattes and croissants. What a way to start the morning.
3. The Sporting Project Dinner Series — This new creative agency is hosting a Fat Radish pop-up during Paris Fashion Week, and we can't wait to attend after New York wraps up.
4. The Apiece Apart Comeback — We loved this line when it debuted a few years ago and are thrilled they're coming back with incredible building block separates. Their palette and prints are perfect, and inspire a well lived life.
5. Clinton Street Bakery Dinner — It's our bi-annual post-lookbook shoot tradition to celebrate finishing the collection with fried chicken and ice cream sundaes at this L.E.S. mainstay.
Related Stories:
Where to Go on Fashion's Night Out
25 Top Sites and Apps to Gear Up for Fashion Week
Fashion's Night Out Calendar Drops
Fashion Week Intel: Rachel Zoe Moves to the Tents, Holmes & Yang Debuts