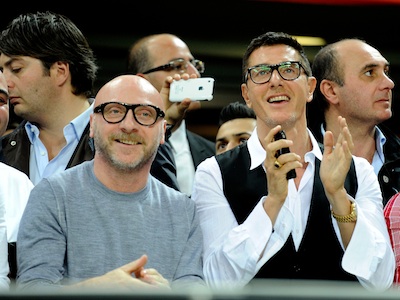 After being indicted on tax evasion charges nearing the $300 million mark, designers Domenico Dolce and Sefano Gabbana were cleared of all charges by a judge in Milan on Friday, WWD reports.
The designers' legal defense had refuted the accusations of fraud, which stemmed from the 2004 sale of the brand to a Luxembourg-based holding company. The prosecution investigated the move under suspicion the move was meant to avoid Italian taxes, but last week's decision ultimately put that notion to rest.
According to the report, Dolce & Gabbana is just the latest in a series of luxury houses to be targeted by the Italian government's Guardia di Finanza. Milan-based financial consultant Armando Branchini weighed in:
"Italy's tax agency wants to win the favor of public opinion and show it keeps busy. It often doesn't get to those that consistently defraud the fiscal system because they succeed in becoming totally invisible, so it focuses on those that are visible, that do pay their taxes."
Indeed, design houses Gianfranco Ferré, Roberto Cavalli and Salvatore Ferragamo have all been accused and cleared of tax-related charges, while several others, including Valentino and Armani, have been embroiled in questionable legal matters in Italy.