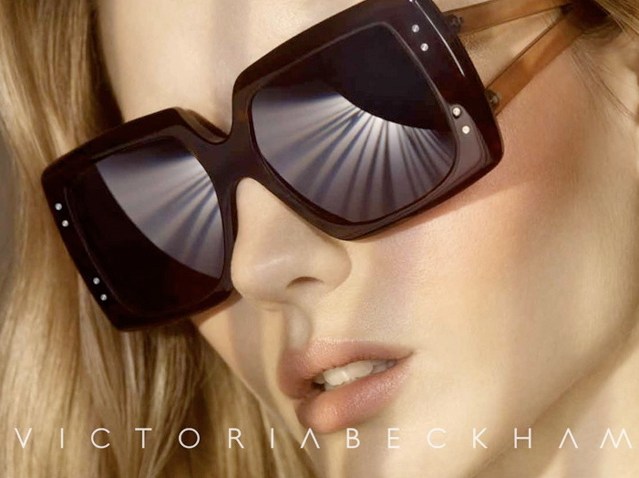 After three successful seasons, self-proclaimed perfectionist Victoria Beckham is dead set on one-upping herself, with a revamped collection of denim and now the latest -- a debut collection of sunglasses to launch tomorrow on Net-a-Porter.com.
Beckham's first collection of denim was infamously dropped by Saks Fifth Avenue shortly following its launch, an embarrassing misstep for the designer as she coasted off rave reviews for her dress line. Not one to take it on the chin, Beckham has since dissolved the original dVb denim brand (the new line simply dubbed "Victoria Beckham") as well as her relationship with Western Glove Works, who produced the flop collection. The new line will feature Beckham's preferred slim denim silhouettes in a range of washes and treatments, as well as a bubble-gum pink "jegging" that we're rather taken with.
For now, Beckham's new denim and sunglass undertakings will be produced exclusively in-house. The ambitious designer tells WWD, "...people say, 'Who is my competition?' I'm my competition. I want to do better next season than I did this season. And I'm sure the season after that I will want to beat myself again." (WWD) In the kiddie pool of celebrities turned fashion designers, we can't help but love Beckham for plunging herself directly into the deep end. Keep paddlin', Posh!
Victoria Beckham's denim and eyewear lines will be available exclusively at Net-a-porter.com until this spring, when they'll be stocked in Bergdorf Goodman, Harvey Nichols, and Maria Luisa.