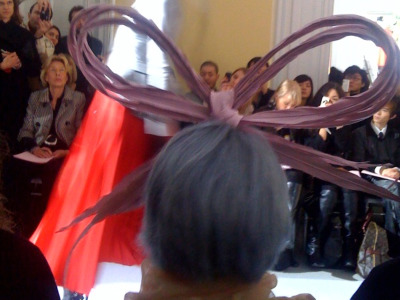 The couture shows kicked off in Paris today, and it turns out the rumors about 13-year-old blogger Tavi covering the runways were true. Unfortunately, she decided to sit front row at Dior in an enormous hat.
Those of us who are currently chained to our desks creating color-coordinated spread sheets for the upcoming fashion week in New York have been following the runway reports from the front lines (read: Twitter), and so we just had to laugh when Grazia snapped a pic of their seat right behind Tavi ... and her absolutely enormous Stephen Jones bow hat. Granted, it's a fantastic hat (and is her hair gray? Oh, Tavi), but it doesn't exactly discourage the whole "Tavi/blogger backlash" movement when you sit in front of certain old-school folk and block the view.
The picture set off quite a frenzy of chatter, but the best take on the whole melee -- as usual -- was blogger Bryanboy, who quipped, "Tavi's Stephen Jones bow is the new Aretha Franklin Inaugural hat!"