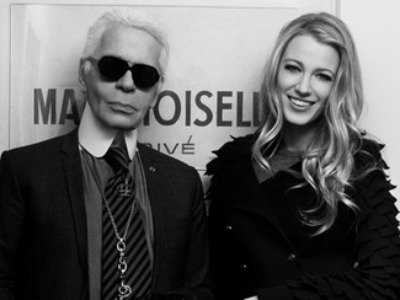 While Blake Lively was spotted way back in November shooting an ad campaign at Chanel's Paris headquarters with Karl Lagerfeld, the official announcement only arrived today in WWD that Lively will serve as "face" and brand ambassador for the new line of Mademoiselle bags.
"A dream come true would be an understatement," Lively told WWD. The actress insisted that, while she is obligated to carry the bag (which retails between $2,200 and $3,000) since she's the spokesmodel, she would carry it "like every other girl."
As for the iconic brand's chief designer, Karl Lagerfeld, Lively gushed like the schoolgirl she plays on Gossip Girl in describing their first meeting, through Anna Wintour (also a big Lively fan), last year.
Lively related that Lagerfeld gave her a preview of the set after dinner. "I took a photo of him so that I would never forget that moment," she said. "Never did I think six months later he would be photographing me."
The feeling, it appears, is mutual: Though previous Chanel campaigns have featured more gamine spokesmodels -- Diane Kruger, Vanessa Paradis -- Lagerfeld was taken with the blond, bubbly quality that has become Lively's signature, perhaps indicating a shift in the brand's focus. As he told WWD: "She's a kind of American dream girl." He added: "She's full of life."
Lively's ads will debut in the April glossies, and we're betting one can expect Lively's character, Serena van der Woodsen to be toting a Mademoiselle about town.