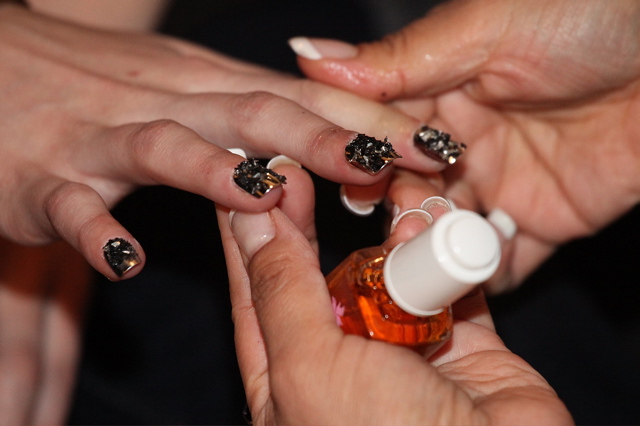 Dashing Diva's most famous celebrity nail technician, Pattie Yankee, grew up as one of 12 children in the small town of Durand, Michigan. From humble beginnings, she's gone on to create some of the most widely-discussed nail designs of New York Fashion Week, including Cushnie et Ochs' enchanting "caviar" nails, which featured dozens of tiny, hand-glued black beads. Anyone well tell you that the crucial accessory to invest in this season is an outrageous manicure, so we sought Pattie's expert opinion on the top trends to watch for fall, and why over-the-top nails are so downright irresistible right now.

What first drew you to the beauty business?
It was actually a nail tech in Florida, where I lived for about 10 years, that worked next to the dance school where I taught dancing, who first initiated the idea to pursue nails. From there, a dear friend of mine encouraged me to pursue nail school and continued to support me all the way through till I finished.

What were you doing before pursuing nail design?
Originally I was on the path of a dance career. I had taught dance in schools in Michigan and Florida and was in a couple of dance troupes. I had thought that dance was the road I wanted to follow. I even moved to New York with a dance career in mind, but ended up working in a salon doing nails instead of teaching dance. I committed myself 100 percent to nails once I began my career and always studied and kept up on the latest trends in the industry, attending educational classes and trade shows.

When working with a fashion brand, how do you go about creating a runway nail look?
Inspiration for runway looks come from a collaboration between the designers and myself. I meet with them and study their collection. From there we sit down and discuss what kind of look they have in mind or I suggest a look that I think would enhance their collection. Some brands totally dictate the entire look for the nails, others let me totally take over, and then there are ones that work together with me to create a look.

Tell us what kind of work went into your famous "caviar" nails at Cushnie et Ochs?
This look came from a joint collaboration between the designers, their stylist and myself. The inspiration board for their collection focused around Native American Indians and their intricate bead work. We decided we wanted to incorporate beads from their collection into the nail design. Carly and Michelle sourced the beads for me to use on the nails. Once I received the beads, I designed several looks that the designers would chose from. Since they wanted the nails to be covered entirely in beads, the "caviar" nail look was chosen from the samples. I polished the nails in Limo Service by Dashing Diva and then immediately dipped each nail into a small dish containing the beads so they could stick into the wet polish and cover the entire nail surface. Once the polish was dried, the beads were secured with a coat of thin brush on glue.

What was the most complex nail you ever created?
This would happen to be one of the several nail art designs I created for the nail competitions I used to participate in, in the past. There were so many! Each one more complex than the one before it!!

What is it about nail art in particular that women get so excited about?
I think it is the beauty of the art itself. I also believe that most of us used to experiment on our nails with nails art when we were young girls and I think nail art rekindles old memories and brings back the excitement and passion of our youth.

What do you think about this season's over-the-top nail trend, or do you feel like they're always in style?
I love that the elaborate nail art styles from the '80s are making a comeback! I always loved designing nails and am happy to have the opportunity to be creative once again. I don't always feel like they are in style as I don't feel like everyone can wear any nail style. Often times I see women wearing a style that doesn't compliment their nail shape and length. I think this is something that should be considered when choosing a nail design style.

What's your most requested manicure right now?
Currently I get the most requests for gel polish manicures or glitter gel manicures. Both styles using the soak-off brand of gel polishes.

Can you predict any nail trends for next season?
I think that nails are going to become more of a fashion accessory in the next season. They will extend the looks of your fashion styles and even incorporate similar colors and patterns of the clothing that we wear. I believe it is going to become more trendy to match the outfits that we wear and women will seek out nail styles to wear that they can easily change to accent their various wardrobe styles.
How do you usually wear your own nails?
I usually wear a dark colored gel polish on my nails which I shape round and keep short.