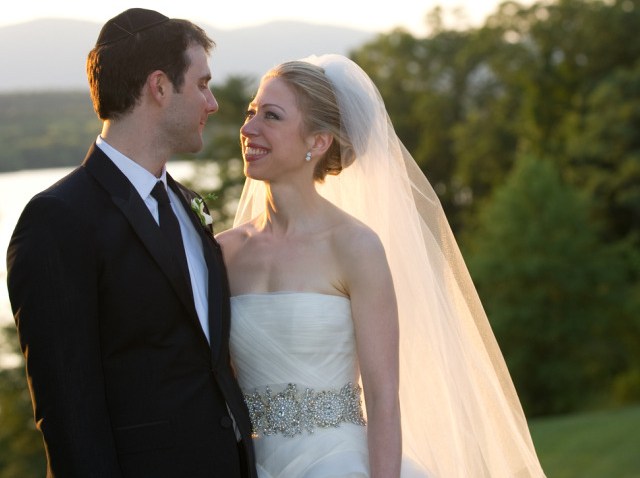 It may have been a big weekend for weddings, but it was also a big weekend for one wedding dress designer, Vera Wang, who created the gowns that both Chelsea Clinton and Alicia Keys wore for their respective nuptials.
After being spotted outside the designer's showroom last Wednesday, Chelsea Clinton confirmed Saturday that she had, in fact, chosen Vera Wang for her bridal gown. The dress -- a strapless, tiered confection topped off with a jeweled belt -- was storybook romance-inspired, but also seemed, for lack of a better word, predictable: Clinton has never been a style icon, per se, and this dress was formal and flattering (no one can deny she looked gorgeous), if not exactly fashion-forward.
Meanwhile, on the Mediterranean coast, Alicia Keys -- who is definitely known for more stylish red carpet attire --- also chose Vera Wang for her wedding to rapper Swizz Beatz. Keys, who is pregnant, went for a flowy, Grecian-inspired style that almost seemed the polar opposite of Clinton's choice, which really couldn't have worked out better for Wang, who got a weekend burst of publicity that also showed her versatility as a designer.
Vera Wang, like many other upscale wedding dress desingers, has faced some serious competition in the market this year as brands like J.Crew begin to offer lower-priced alternatives with mass-market appeal. (Heck, the J.Crew wedding store opened mere blocks from Wang's flagship on upper Madison.) However, with two A-list weddings in one weekend and a soon-to-be-released collaboration with David's Bridal, the designer still seems to hold the crown of America's wedding dress designer.