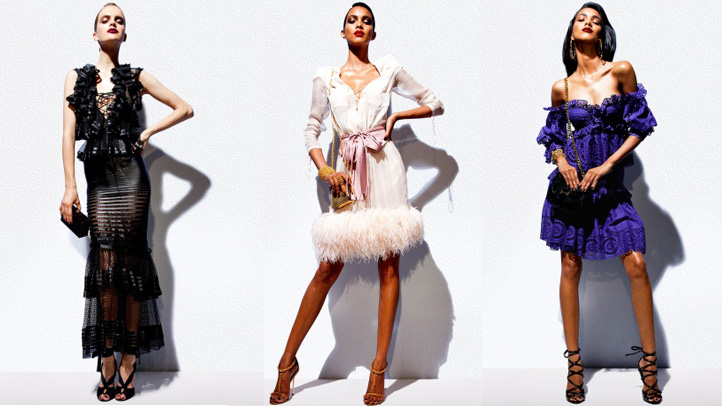 For the third season in a row, Tom Ford chose to debut his latest collection to an intimate, exclusive group, forbidding any and all photography. However, unlike in previous seasons, the reviews were not all ecstatic: Virginie Mouzat of Le Figaro described a "fussy" show that she called "overload," ending in an awkward moment where Ford was expecting a standing ovation that never came. Jess Cartner-Morley of The Telegraph said the show felt "too self-referential." Of course, many others sang Ford's praises, but the fact that some editors dared to question Ford's design prowess is worth noting.
Now, images from the collection have finally been released, tied to an exclusive interview with Vogue. As the designer told Sarah Bower, the collection was inspired by some Western shows that he and his partner attended in Santa Fe. The spring wares include all of the signature pieces one would expect from Ford -- skin-tight pencil skirts, cinched waists, pants -- all rendered with ultra-luxurious details.
As the Vogue piece argues, it's the details that might have been lost on the critics who attended the show, and thusly, Ford has decided to host a series of more intimate presentations next season instead of just one show.