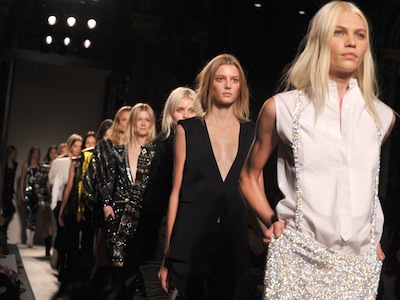 There's always drama to be had around fashion week—such is the nature of the beast—but Paris fashion week fall 2011 has reached a fever pitch when it comes to speculation and scandal.
After Balmain designer Christophe Decarnin was conspicuously absent from yesterday's runway show, rumors surfaced that he had been in a mental hospital since January. The owner of the brand, however, told reporters at the show that Decarnin was "just tired."
Later in the day, WWD reported that Decarnin was, in fact, resting -- but on doctor's orders. According to the report, the designer had, in fact, been "recently been released from the hospital, where he was said to have been treated for depression."
Hint Magazine suggests that Decarnin was less involved with the collection, considering his hospital stay, leaving new stylist Melanie Ward—who replaced Emmanuelle Alt after her departure for French Vogue—to spearhead the fall collection. Company reps insist Decarnin was, in fact, involved with the line.