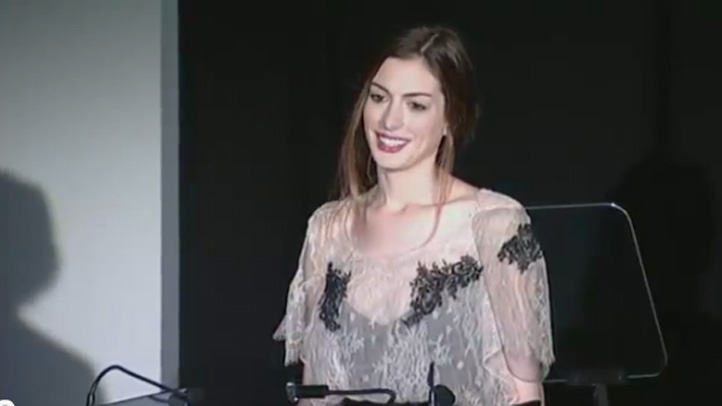 Anne Hathaway and Huge Jackman joined editors and fashion insiders at MoMA to celebrate the launch of what Hathaway described as "the birth of a revolution" -- the Valentino Garavani Virtual Museum, created by Garavani and his partner, Giancarlo Giammetti.
Hathaway had just returned from attending the Kennedy Center Honors in Washington, D.C. the previous night, and relayed how Garavani and Giammetti had been "exquisitely persistent" in convincing her to make the rush trip back to act as "godmother" to the launch. Jackman, who was introduced as "a dear friend of the Valentino family," was a surprise guest.
The first virtual museum to fashion, which is now available for download, gives Valentino fans access to 10,000 square meters of virtual space and 5,000 images stretch across five decades of the designer's career. Admission to the museum is free -- something Giammetti says was a conscious decision by himself and Garavani, who used only their own money to finance the project.
The museum took two years to put together and forced Garavani, especially, to get over a few technological hurdles. (The designer apparently struggles with TV sets and DVD players, so it's understandable that virtual reality was a bit tough to embrace.) It wasn't long before Garavani came around to the idea of a legacy that wasn't pinned to a physical space.
"After a long time, political people they change, maybe the [brick-and-mortar] museum doesn't exist anymore," said Garavani. "The dresses, they are going to Marche aux Puces or Portobello, I don't know where. So it's much better to have [a virtual museum]."
According to Giammetti, the museum will grow and evolve with time, adding new information and photos, as well as expanding its Master Class series, in which designers and cultural figures give lessons. Giammetti also expressed his desire to eventually launch a fashion competition through the museum.
Both Garavani and Giammetti stressed the museum's ability to provide a better connection to young people and the next generations of designers.
"I think that the set-up of fashion today has taken a lot of freedom out of designers," Giammetti lamented. "The bottom line of the companies is more important than the expression of the vision, and I think that, in a certain way, technology can help in the conquest a certain freedom to dream a bit more. I think that in fashion today, there is not enough dream. Valentino is a dreamer; I am a dreamer in a way. We left fashion because dreams were not there anymore. And you can capture a certain dream in a virtual museum."