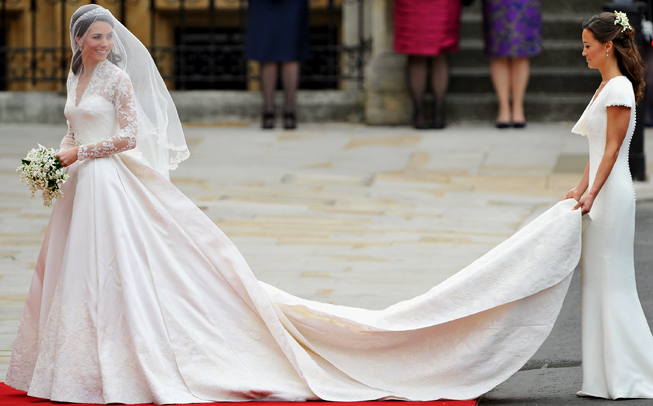 Remember all those pre-royal wedding months of media speculation over Kate Middleton's gown? A host of rumored designers, including the actual chosen one, Sarah Burton for Alexander McQueen, repeatedly denied any part in the affair, and as it turns out, many of the members of the McQueen staff were right: According to Us Weekly, members of her staff may not have even known they were working on The Dress.
A staff editor for the magazine went on ABC to discuss some of the highlights from the magazine's latest issue, which includes some interesting revelations about how the dress was kept such a closely-guarded secret, even within the McQueen design team itself.
The lace makers, for example, were told that the pieces they were making were for a "period British costume drama," and the seamstresses were told they were working on a dress for a movie. Burton apparently only chose a small, trusted team to accompany her to Buckingham Palace for the fittings -- and all of the members of said team were sworn to secrecy.
And now for the kicker: The Us Weekly editor insists that the senior design team of McQueen was ordered to lie about making the dress when asked by the press.
One last charming little detail the report revealed: The lace team also sewed a little blue ribbon into the lining of the dress, so she'd have her "something blue." Watch the full video below: