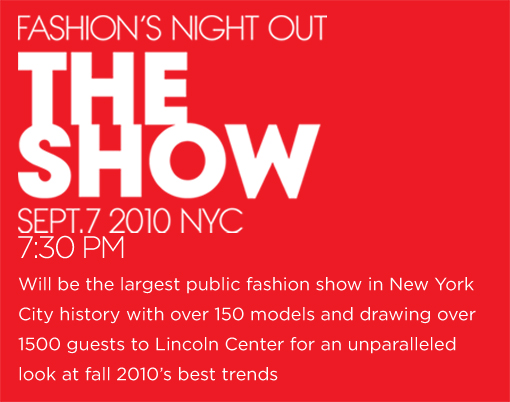 This week's drama on the Fashion Week/Fashion's Night Out front has nothing to do with Lincoln Center labor picketers.

According to WWD, unnamed "sources" (and by that, we're speculating "designers") are disgruntled over a mounting list of difficulties involved in participatingin the epic Fashion Night's Out: The Show, which will welcome 1,500 spectators and be live-streamed from Lincoln Center on September 14.

According to the memo, designers were given a June deadline to submit original samples (or their exact reproductions) to the magazine for consideration, which would be held through mid-September. Since "requested-then-rejected" items were not returned as edits were made, participant hopefuls—only recently notified that their pieces didn't make the cut—lost out on three months of opportunity to promote, shoot, and publish pieces elsewhere.

Of course, since Anna is supposedly vetting all 150-plus runway looks, labels that do make it down next Tuesday's runway can lay claim to her Midas-like stamp of approval—that and the fact that some of the world's most famous (and unattainable—ahem, Naomi Campbell!) supermodels such as Gisele Bundchen, Coco Rocha, Alessandra Ambrossio, Adriana Lima, Karolina Kurkova, Lily Donaldson, and Sasha Pivovarova, be showing off their outfits.

Come Wednesday, we're sure at least they'll agree it was worth the wait.