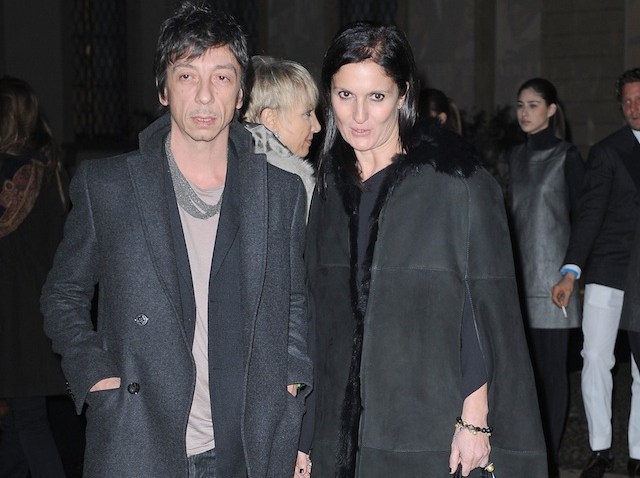 In this month's Interview magazine, Valentino president Giancarlo Giammetti conducts an at-times grilling Q&A with his longtime companion and business partner successor, Maria Grazia Chiui and Pier Paolo Piccioli.
Having built the business side of the brand alongside designer Valentino Garavani, Giammetti makes for a somewhat awkward choice to discuss the job with Chiuri and Piccioli, and the interview illuminates how the new creative directors diverge from their legendary mentor when it comes pressures of modernity, such as dealing with the press.
At once humbled by their ascension to the helm of Valentino, and ready to take the brand into the future, Chiuri and Piccioli were frank with their boss. According to Piccioli, the creative director role "wasn't even a dream," and he was actually advised against taking the job by his mother, who was concerned about his family life.
Having wisely disregarded the advice, Piccioli, along with Chiuri, candidly discussed the mixed reviews they've received for their collections to date (Piccioli: "You ... love your father, but sometimes you have to rebel before you grow up"), showing, perhaps, the most significant difference between their approach to the media.

While, according to Giammetti, Valentino would have told journalists like Suzy Menkes, who thought the duo's inaugural collection "lacked surprise", to "go to hell", Piccioli is more thoughtful: "You do analyze what you do and try to understand how others see you, but you do it from the right perspective and distance."
The three also discuss Tom Ford's strategy of delayed gratification through long-lead media -- Giammetti is a fan -- one that Chiuri likens to Giammetti's own "packaging" of Valentino as the man and the brand.
At this point, what Chiuri and Picciolo seem set out to do is forge ahead with the next phase of the brand without the figurehead at the helm. To do that, they'll have to looking to the past in order to move into the future.