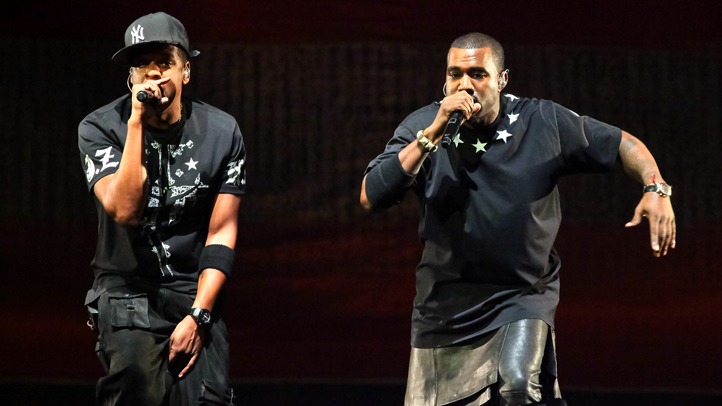 Monday, Nov. 7 and Tuesday, Nov. 8: The Throne, Ft. Kanye West and Jay-Z. Madison Square Garden. $69.50 - $350.00, 7:30 p.m.
Concert reviews from previous stops on this tour have revealed that, contrary to his line "I'm planking on a million" and the hopes and dreams of everyone, there will not be a moment during this performance where Jay-Z will lie prone on $1 million. A rare miss on what will be an otherwise unimpeachable event. Two of the greatest artists and performers in hip-hop, or heck, recorded music's history, will share the stage and perform highlights from this year's Watch The Throne and their monolithic back catalogs. Which really should be enough for you, but there's the added bonus that Kanye could literally say anything onstage (during his last MSG stop a few years ago he went on a long tirade about his persecution complex that somehow turned into an impassioned defense of Soulja Boy) and literally anyone (Beyonce, Bon Iver, Nicki Minaj, Pusha T, Batman) could drop by. All that, and these two gentlemen will offer their appraisal of the finest luxury goods on the market, should you be looking to buy dad a watch for Christmas. We don't say this sort of thing often or lightly, but if you have to sell an organ (hopefully yours) to get a scalped ticket to this, it will totally be worth it.
Monday, Nov. 7: Scratch Acid. Webster Hall. $25, 8 p.m.
If the phrase "Boilermaker" means something to you even more hard-hitting than a shot of whiskey and a beer, you will be in good company at Webster Hall. Scratch Acid, the Austin noise band fronted by David Yow and formed in 1982, hits the stage for one of a few brief reunion sets. Sure, Scratch Acid's discography in itself is brief, but Yow and guitarist David Wm. Sims went on to form seminal post-hardcore legends The Jesus Lizard. The the more recent band has once and for all called it quits, the aging Yow has somehow found the energy to front the slightly noisier, more frenetic Scratch Acid. This show will be a lesson in punk history and a primer in stage presence, even if the band is over the hill.
Tuesday, Nov. 8-Sunday, Nov. 13: Chick Corea. The Blue Note. $45 - $65, 7 p.m.
There isn't a more virtuostic fusion/jazz keyboardist living today than Chick Corea. His insane dexterity alone is enough to inspire -- or possibly intimidate -- any keys player worth his salt. As part of Miles Davis' band, Corea's wonked-out Rhodes riffs were as essential to the sound of the groundbreaking Bitches Brew as were the driving percussion and steely, haunted trumpet. His brief residence this week at the Blue Note will pair the Electrick Band leader with Gary Burton, the Harlem String Orchestra and Bobby McFerrin, among others. Corea's compositions are considered standards among jazz heads, which means if you don't know them by heart you're pretty lame. Most of the early shows are sold out; but thankfully, Corea's playing two sets a night and the late shows still offer some seats.
Thursday, Nov. 10: The Coathangers, Girl In A Coma. The Knitting Factory. $12, 7 p.m.
Atlanta's all-lady ramshackle punks have a knack for specific type of song in which, using three- and four-part harmonies, they tell you how you are being annoying and to leave them alone. The harmonies are lovely enough, and the general vibe boisterous enough, that you don't mind that they talk to you in such a manner. And you know, they have a point. You were getting kind of obsessive there for a minute. Note: The Coathangers and Girl In A Coma will also perform on Friday, Nov. 11 at Webster Hall.
Saturday, Nov. 12: ? and the Mysterians, The Randy Fuller Four, Untamed Youth, Luis & The Wildfires. The Bell House. $35, 7 p.m.
It's forgiveable if you were surprised to discover that Michigan garage legends ? and the Mysterians still play out. It's not forgiveable if you don't hold "96 Tears" as something akin to a sacred document, and don't realize how incredible an opportunity it is to get to see it performed live. Speaking of amazing songs performed live, Randy Fuller has been known to perform his brother Bobby Fuller's "I Fought The Law" in addition to his own material old school R&B material. This night is part of The Bell House's weeklong celebration of garage punk label Norton Records, which will also see performances from The Sonics and The Black Lips. Check out the full schedule here.