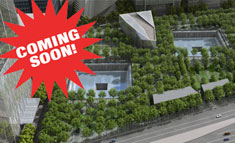 Port Authority, you nearly had us! After announcing that the September 11 Memorial Plaza would be open in time for the 10th anniversary of the attacks, then issuing a strict new timetable for the rest of the site, then launching a website to track the construction milestones, we thought the old whipping boy had dusted itself off and taken control. But, it turns out, the Port Authority has a slightly different definition of the word "open." PA Executive Director Chris Ward told a City Council committee yesterday that parts of the 8-acre memorial would only be "open" for the anniversary ceremonies, then the whole thing will be closed off to the public until at least late 2012, so it can be finished instead of just fake finished. This way, Bloomberg gets to say one of his WTC demands technically panned out, which—according to the Constitution or Magna Carta or something—legally guarantees him a 20,000th consecutive term as mayor. Seriously, look it up.
· Port Authority says 9/11 memorial at Ground Zero will open in 2012 [NYDN]
· Further Delay on WTC Shrine [NYP]
· World Trade Center Redevelopment coverage [Curbed]For more stories from Curbed, go to curbed.com.
Copyright CURBD