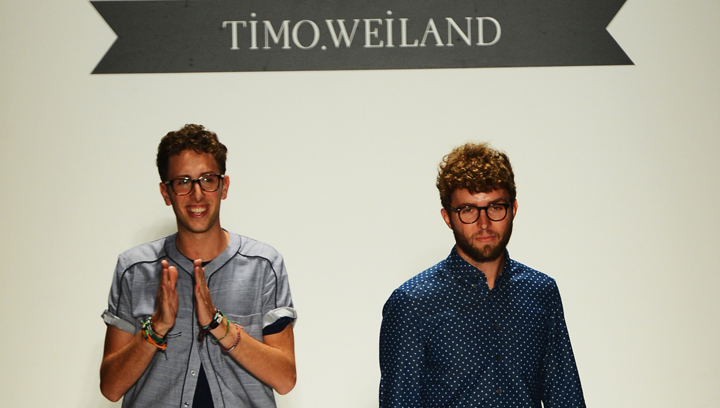 Timo Weiland and Alan Eckstein really threw their hat into the ring with their spring/summer 2013 collection. Not to be counted out of any race, they used every fabric that came to mind—silk chiffon, jersey knit, cotton, PVC, suede, lace. And their color story ranged just as widely as their fabric choices, with a rainbow of hues including neutrals like taupe and camel to black and white, and more vibrant pink, green, and salmon—a refreshingly subtle change from the rust we've seen this season.
The pieces came together so beautifully into a cohesive line that it just escaped being called aesthetically schizophrenic with so much going on in one collection.
"The origination of the collection came to us while we were DJ'ing. It's really like small town USA boy comes to the big city, wants everything that it has to offer, and we can relate so much to him being at that age you know," Weiland shared with Thread backstage.
Incorporating classic Timo Weiland, the men remained more edited, with lightweight bombers in the neutral palette, classic button down shirts, and canvas shorts. It was with the women's wear that the pair evolved—sending out evening skirts in duchess satin, tie-dye houndstooth prints, and a showstopper black silk cocktail dress with Swarovski embellishments—sure to be a red carpet stunner.
Eckstein described the use of crystals as representative of the glitz of the big city. "This is a very cultural collection for us. I think we really feel like we're in a place where we feel like we connect with our customer. It's our seventh season so now we have the freedom to do what we want. This was an expression of that freedom," he added.
With clothes that move this beautifully it's no wonder the presentation veterans now opt for runway only.
Related Stories:
VIDEO: At Timo Weiland, Basquiat Hits the Beach