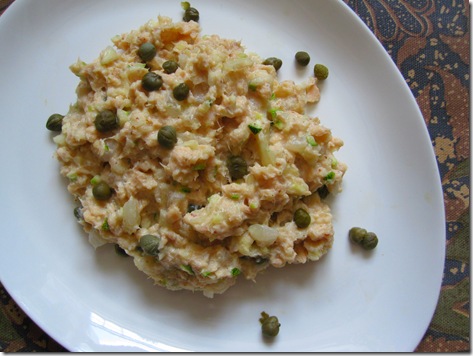 As a child, I didn't eat fish. More accurately, I was under the impression that I didn't eat fish.

I wasn't a finicky eater — just a willfully independent one. So when I decided that I was too sophisticated for fish sticks at age five, I publicized my distaste for fish and fervently (read: dramatically) defended it from thereon out.

Though I didn't know it at the time, there was one exception to my "no fish allowed" mandate: Bagels and lox. And the culinary culprit who put the lox on my plate: Nanny.

In truth, "culinary culprit" is harsh phrasing to describe my adorable Jewish grandma, especially since there was no trickery involved.

You see, to my childhood eyes (and, still, to my adult ones), Nanny wore a mystical halo of domestic goddess-ism. Her Long Island home seemed mansion-like compared to my family's comfortable Brooklyn grounds; immaculate compared to our "tidied up;" "made from scratch" to our "from the box."

Don't get me wrong. My childhood was loving and privileged in countless ways. But Nanny's home carried a degree of grandeur unknown to my five-year-old self. And so, I trusted anything that came out of Nanny's kitchen. Lox included.

Sunday mornings were always my favorite part of our weekend escapes to Long Island. Nanny would put out a spread of omelet fixings, cereals, bagels, bialys and every deli spread and topping imaginable — cream cheeses (Temptee, Philadelphia and vegetable to cater to our family's diverse cream cheese-y preferences), tuna and egg salads, chopped liver (another food that made its way onto my plate at Nanny's without my comprehension of exactly what I was consuming) and the ever cunning lox.

I didn't know what lox was. But I knew Nanny and Poppy ate it. And in the same fashion as my naive consumption of chopped liver, I adopted a "don't ask, don't tell" attitude toward the foods my grandparents loved and followed suit.

And just like that, the kid who hated fish willingly ate a bagel with cream cheese and lox on every Long Island Sunday morning. Until someone told me what lox was.

This brings us to this week's recipe: my Salmon, Cream Cheese and Caper Salad, which is reminiscent of my "non-fishy" Sunday morning breakfasts. Of course, these days I knowingly — and purposefully — opt for fish. But the familiar mingling of cream cheese and salmon still evoke a taste of nostalgia and gastronomical naiveté.

This dish has quickly become a lunchtime staple because it meets and exceeds my three pre-requisites: 1) delicious; 2) easy to throw together; 3) packing some serious nutritional punches.
Let's talk about number three.

Omega-3s: As you've probably heard, the standard American diet infamously lacks omega-3 fatty acids. This is a deficiency to be vigilant about remedying — as adequate omega-3s improve the body's inflammatory process, boost cell and brain function and decrease the risk of cardiovascular disease.
Fish — specifically cold-water varieties like salmon — have the highest concentrations of omega-3 fatty acids. The blend of fatty acid chains found in salmon is also more effectively absorbed by our bodies than vegetarian omega-3 sources like walnuts along with flax and hemp seeds. Canned salmon does have less omega-3 than fresh salmon — one gram in comparison to 2.6 grams. But it's still a higher concentration than, say, tuna. This brings us to our next point.

Switch up your tuna salads. Tuna is a far more common lunchtime staple than salmon — but really, for no good reason. Salmon carries a far lower risk of being contaminated by mercury than tuna. Dependent on body weight, age and gender, most of us shouldn't be consuming more than 2-4 servings of tuna (about 1-2 cans) a week. Also, I find canned salmon smells less fishy than tuna (shocking, I know). While not a nutritional benefit, this little tidbit can save you from being that person who plagues the office with tuna stink.

Calcium: An unappetizing fact: Salmon bones are good for your bones. While fresh salmon has a one-up on omega-3 content, canned salmon has anywhere from 10 to 20 times the amount of calcium. Because the canning process softens salmon's calcium-rich bones, they're edible by the time they reach your plate. They essentially dissolve when mashed into a salad. But if the bone-eating thing irks you, you can forego the calcium perk and buy boneless canned salmon.

Veggied-Up: My favorite way to pack extra nutrition into any dish: bulk it up with vegetables! I turned to zucchini, onion and capers for this salad — which pack a host of vitamins and anti-oxidants — but you can throw in whatever you have on hand. For those not entirely sold on the flavor of salmon, extra vegetables also neutralize the taste.

A last non-nutritional vantage point – but one of my favorite perks of this recipe: It makes two large servings. This means you can store it in your office fridge so you have two days of lunch taken care of. Or you could share. But I usually keep it to myself, unless Nanny wants some.
---
Salmon, Cream Cheese and Caper Salad
Makes two large servings


INGREDIENTS
3-4 tbsp. cream cheese OR 2-3 wedges Laughing Cow (softened)
1 tbsp. lemon juice
1 tbsp. red wine vinegar (I was out, so I used the brine from the capers)
½ tsp. garlic powder
1 (6 oz.) can of salmon, drained
¼ cup finely chopped Vidalia onion
¼ - ½ cup finely chopped zucchini (adjust according to how prominently you want to taste the salmon)
3 tbsp. capers
Salt to taste (coarsely ground sea salt or kosher salt work best)


DIRECTIONS
Combine softened cream cheese, lemon juice, red wine vinegar and garlic powder, and whisk until smooth.
Flake salmon out of the can, and combine with sauce.
Mix in onion, zucchini and capers.
Season well with salt, and serve with pita, crackers or wrapped in kale.