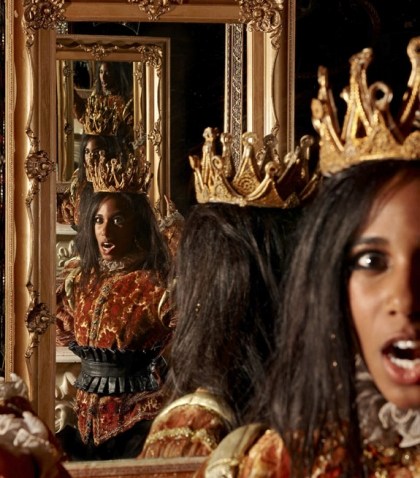 Santigold ended her lengthy hiatus on Monday night, which is a good thing, because if she had gone any longer without touring or releasing a follow-up to her 2008 downtown future-pop debut, she was at the risk of becoming the art-funk Jeff Mangum.
And clearly, the world does not need a funky Jeff Mangum.
Anyway, Santigold dispensed with two of her biggest songs, "Lights Out" and "L.E.S. Artistes" at the top of her set, and devoted a generous portion of the set list to airing new songs and apologizing for the delay.
"We are so happy to be back. And we are back! This is just the beginning," she said. There was also a part where a person danced in a horse costume, which was amusingly never commented on by anyone on stage after it happened.
Here's our initial take on the new material Santigold debuted, song titles provided courtesy of her publicist. It's hard to know too much about an album based only on one listen to new material performed live for the first time (and maybe a bit of YouTube double-checking), but it seems safe to say that she didn't play it safe on her forth-coming album Master of My Make-Believe.
"Go"
The first song she played. This single has been floating around for a while, and the oy-punk-like stuttering "hey/hey/hey" chorus was a good way to kick off the call-and-responses early. Though guest star Karen O. couldn't drop by to recreate her cameo, the beat still felt like a dive bomb.
"God from the Machine"
Over a clatter that sounded like a loop of high school drum core and ice-cold synth lines cribbed from The Cure's most depressing '80s albums, Santigold chanted an insistent, desperate cry of "do you think you can make it alone?"
"Disparate Youth"
A easy-going rock steady skank, supplemented with more forceful drums and an occasional interruption from a punkish guitar cutting in and out of the groove like a skipping record, this song saw Santigold alternating between light toasting and wordless crooning. It's worth noting that Santigold black-and-white clad dancers had a twirling umbrella already planned out. Hope that makes it in to a music video.
"Freak Like Me"
Coming off like an idiosyncratic Rihanna song, this has a pretty na-na-na pre-chorus, sprightly pace and lyrics encouraging us all to embrace our inner freak. A likely single, if far too repetitive (which is why it might be a single at some point).
"Fame"
Based on available evidence, this could be the hardest song Santigold has put her name to. Bearing a distinct Nine Inch Nails vibe, with a bit of a David Bowie shout out in her cadence, Santigold castigates people looking for fame for fame's sake over distorted guitars and drums designed to provoke both regular dancing and slam dancing.
"Big Mouth"
Grounded by a multi-drum tribal groove and drawn-out samples of backing vocalists harmonizing around a wordless chorus, she unleashed a naggingly catchy dance-hall taunt of "ah-ah-ah-ah-oh-oh/you've got a big mouth/big mouth/big mouth." It sounds like it's a bass-heavy remix away from being a club favorite.