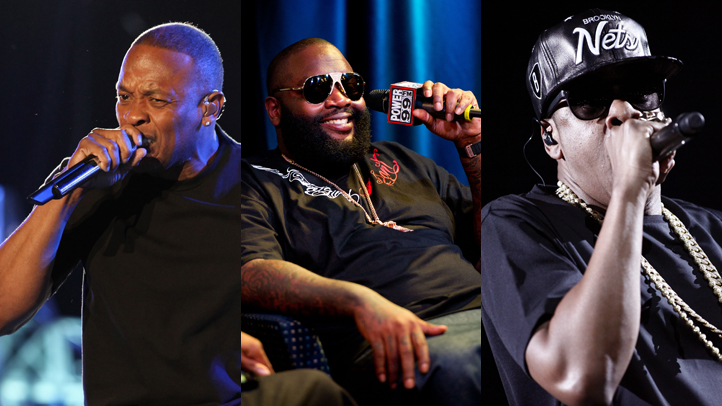 Some songs just feel like events. When Dr. Dre and Jay-Z unite, you pay attention. When they align themselves with Rick Ross, the Miami-based rapper whose massive recent successes has him threatening to ascend to the elite echelons of this song's guests, the song becomes even more of an event.

Earlier today, Ross, Dre and Jay-Z dropped "3 Kings," a single so star-studded that you can't help but listen to. Dre goes first, tackling the Jake One-produced instrumental with a straight-ahead flow, offering that the song might sound better if it were experienced using his Beats By Dre headphones (bias: Listening to the song on 50 Cent's signature headphones seems just fine).

Ross goes second, delivering the strongest performance of the star-studded posse cut. Though he's a big guy, Ross can tackle a beat nimbly when he wishes, as he displayed in the DJ Premier-produced mixtape cut "Knife Fight" or his recent verse on Nas' "Accident Murders." It's a testament to Ross's subtle versatility that he can step out of his Versace-drenched, hard-nosed comfort zone to deliver something that could have stood as a highlight on a vintage DJ Clue-curated tape.

Jay-Z's verse, meanwhile, finds the rapper somewhat adrift. Perhaps the most famous rapper in the world, Jay is more and more becoming a prisoner of his own success. "Still a hood n---a," he raps, despite also discussing the works of art by Banksy and Basquiat he owns. He discusses wealth as something of an isolating factor -- no one else can go where he goes, because they don't have enough money. It's a bit like the joke on 30 Rock, when Jerry Seinfeld brags to Alec Baldwin's character that he knows about countries that only the obscenely, obscenely rich know about. Except when Jay raps about this, it reminds us that it's lonely at the top. He does manage one ace reference, however, a shout-out to idiosyncratic New York legend Max B, who is currently serving a 75-year prison sentence.
In his days on the streets, Max worked extensively with French Montana, another New York rapper who's currently enjoying a "moment." Montana's is aligned closely with Ross, and his signature sound -- a carrying on of Max B's melodic, wavy torch -- feels truer to the feel of contemporary New York hip-hop. Still, French Montana is relatively low on hip-hop's totem pole, especially compared to the names on "3 Kings." It's the sonic equivalent of a James Cameron epic, something so opulent and well-made that you can't help but enjoy it. But perhaps, there could still be something more.