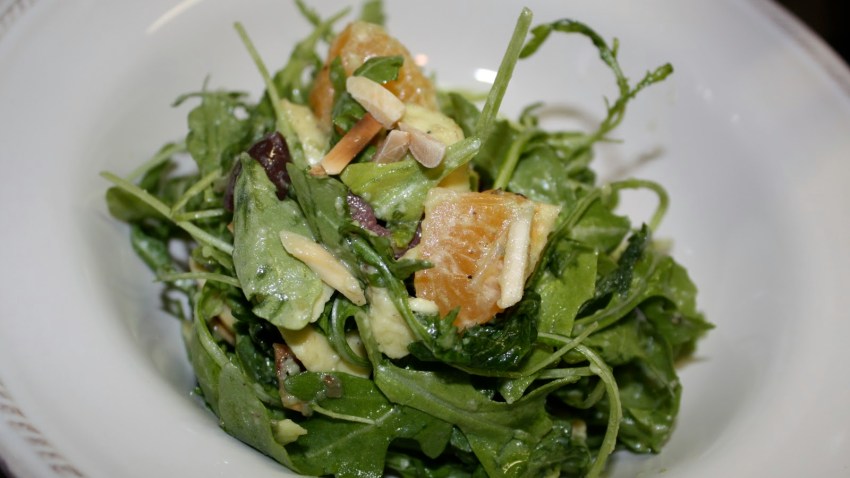 A recipe from natural chef and fitness instructor Erin O'Leary Stewart, who's worked for top restaurateurs and now has a baking business online at o-cookies.com: She says she wants to share her desire to eat well, and her "love for delectable dishes and passion for fitness and health" with others.
Arugula, Avocado & Citrus Salad
This is a wonderful and simple winter salad right when citrus is at its peak. The almonds add a nice crunch and the olives a good salty bite that pairs well with the creamy avocado.
Serves 2
Ingredients

1 bunch baby arugula, washed and dried
1 clementine, peeled, separated into segments and cut into bite-sized pieces
1 avocado, pitted and diced
Black kalamata olives, sliced
Slivered almonds, toasted
4 Tbsp, or more, extra virgin olive oil
Juice from 1/2 lemon
1 tsp dijon mustard
Sea salt and black pepper, to taste
Directions
To make the dressing, combine the dijon mustard and the lemon juice in a bowl. Whisk in the olive oil until it emulsifies. Season with sea salt and freshly ground black pepper.

Place the arugula, avocado and olives in a bowl. Toss with dressing and top with toasted almonds. Serve immediately.
Thanks, Erin!
This is one of several recipes by healthy-eats bloggers in New York City to be featured here in an ongoing series. Want to pitch a recipe of your own? Email us.