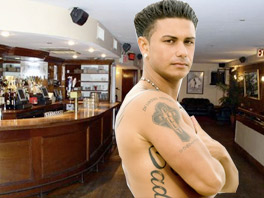 Over the past month, the Jersey Shore kids have been making appearances in bars and clubs (and tabloid covers) all over the country, milking the viewing public's morbid fascination with the reality that is their lives. They've been going to Marquee, hanging with Michael Cera here and there, but the crew has yet to put on a party just for the fans.
Until now. Imagine for a second—if you can handle it— a Jersey Shore themed party with a Jersey Shore alum DJing at a giant multi-storied generic sportsbar in Midtown. <a href="http://www.nypost.com/p/news/local/manhattan/pauly_to_deejay_at_jersey_shore_YtBDaCGOpl6oivU5vZTU0L#ixzz0chy5dVNB
">From the Post: "Paul DelVecchio, aka DJ Pauly D, who has shot to fame thanks to MTV's breakout reality series "The Jersey Shore," will be spinning at Midtown bar Sutton Place Jan. 23 from 10 p.m. to 4 a.m. 'Jersey Shore'-attire is mandatory at the event..." The only real question is why this isn't going down in Murray Hill.

Copyright EATER