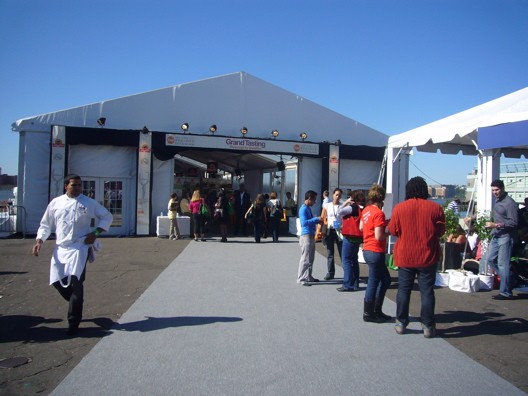 A quick word on the Grand Tasting Tent (two more sessions take place today at 11 and 3): it is somewhat reminiscent of a supermarket, albeit a very drunken one. You've got your ShopRite, your Barilla, Bertoli, Pepperidge Farm, Garretts Popcorn, and of course, the ever present Evian and Viva. However, there is plenty to drink and, if you're paying attention, some excellent samples from noteworthy restaurants. Especially worth seeking out: Felidia's tuna caprese cup, Landmarc's orecchiette with sausage, and, we've heard, Waldy Malouf's foie gras and duck pate.
· Hangover Observations: The NYC Wine & Food Festival BURGER BASH [~E~]
· All New York Wine and Food Festival Coverage [~E~]For more stories from Eater, go to eater.com.
Copyright EATER